In recent years, virtual reality, Virtual Reality in English, has begun to impose itself in the real estate sector. Today, an increasing number of real estate agencies and landlords are adopting this technology to provide a more realistic, engaging and dynamic housing search experience for their clients and potential tenants.
In general, virtual housing tours offer customers the possibility of visiting the property in complete safety when sanitary conditions do not allow it.
On the other hand, going digital in real estate has become imperative to boost home discoverability, increase ROI, and create a better overall customer experience. In this sense, the rental site Rentola offers in its advertisements the possibility of geolocating the accommodation on an online map. In this way, the potential tenant can virtually visit the neighborhood where the accommodation is located. It is thus easier to discover the amenities in the surroundings of the latter.
The use of virtual reality in the context of a rental visit and the search for a property offers many advantages for both the lessor and the potential tenant.
The Top 4 Benefits of Using Virtual Reality in Real Estate Search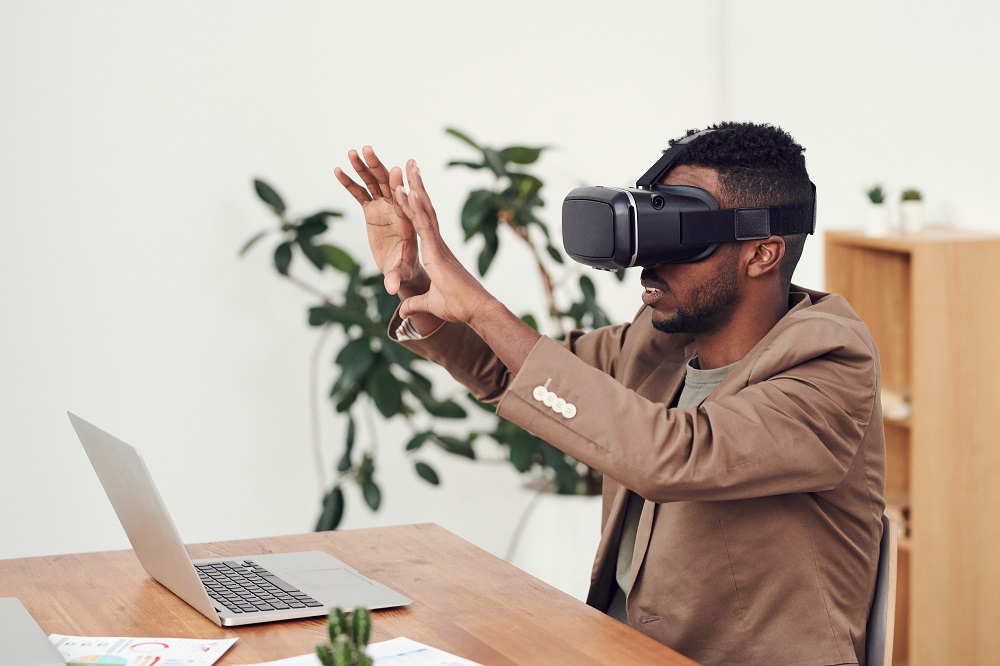 1. Improved customer experience
One of the main benefits of virtual reality technology in real estate is that it provides potential clients with a real and immersive experience. In general, via virtual reality, a client or tenant can explore a property in depth before making a decision. In addition, during a VR visit, several multimedia effects can be added. It can be ambient music, narrations or various light or sound effects.
These different effects add a touch of realism and wonder to the client's experience while strengthening their confidence in the lessor. In addition, virtual tours can be carried out at any time of the day and via any digital medium such as a computer, tablet or smartphone.
2. Saving time and money for the lessor and the lessee
Virtual tours allow potential tenants to visit both the property and the neighborhood where it is located. In this way, customers are informed in real time about details such as road conditions, traffic, neighborhood vibes, public transport or other amenities. The advantage is that they have access to this information without having to travel. Tenants can also quickly sort through the rentals that interest them.
At the same time, virtual reality also saves time and money for landlords and real estate agencies. Indeed, via this technology, these bodies can do without expensive visits and face-to-face meetings. In this way, landlords can rent their property more quickly and reach more potential tenants. On the other hand, they also avoid the costs relating to visits for tenants who are not really interested in the property offered for rent.
Finally, with virtual tours, the property is always in its best condition. The owner no longer has to do the cleaning after each visit.
3. Personalization of the visit
Unlike face-to-face visits, virtual tours can be customized to match customer tastes, with limited resources.
Virtual reality makes it possible to precisely define the lighting characteristics, the interior design or even to zoom in on certain parts of the dwelling. These are aspects that will mainly be appreciated by more visual tenants. For more practical customers, it is possible to customize the virtual tour with pop-up windows showing statistics and information on the area of ​​the accommodation.
Virtual reality technology also makes it possible to be creative. It is thus possible to add furniture to the accommodation or to play with the colors of the spaces. This is a definite advantage for potential tenants who can thus visualize life in a space. Virtual reality offers a realistic experience to potential tenants, thereby reassuring them.
4. An asset for the owner's reputation
Real estate agencies and landlords who use high-quality virtual reality content generate more leads and improve customer engagement and returns to their platforms and social networks.
Since virtual reality is a recent technology, its use in real estate allows a landlord to stand out from the competition. Optimal virtual reality contents can additionally go viral on social platforms. It is also a plus for the reputation and the image and thes business of an owner who are thus strengthened and better positioned in the search engines.