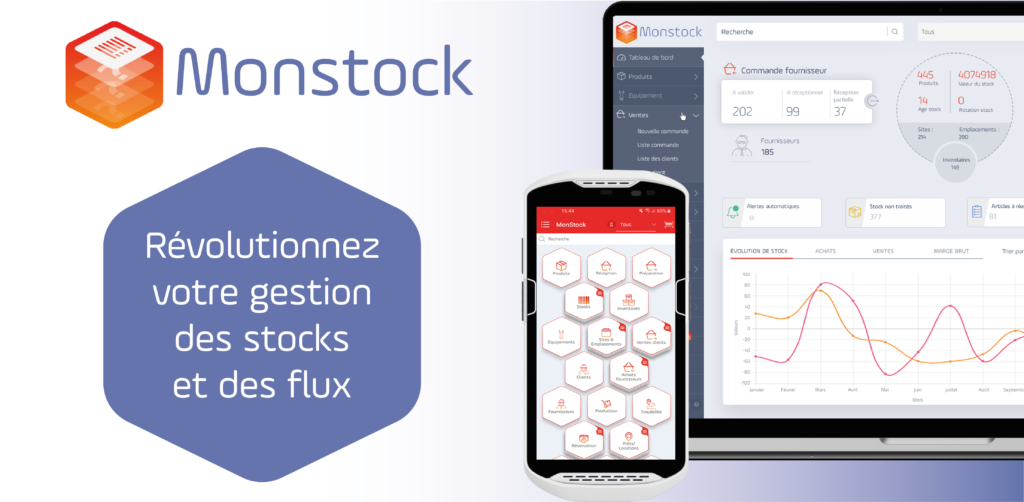 Are you looking for a better stock management solution? Indeed, as part of your business, you need to optimize the management of your supplies, equipment and materials to ensure the proper functioning of your business. On the market you will find a plethora of inventory management software, but not all are created equal. However, there is one tool that stands out from the crowd thanks to its many features. This is Monstock, an excellent software that allows you to better manage your stock from your smartphone. Why should you opt for Monstock as stock management software? Here is everything you need to know about this software.
Monstock Overview

Monstock is a SaaS inventory and flow management software available to companies in the trade/retail sector , industry, logistics, hotels, telecommunications, energy, IT, healthcare and other industries seeking inventory management solutions . It is a software that allows you to manage the stock from a single dashboard. It offers the ability to create and manage different product catalogs and track equipment across multiple locations or sites using barcode recognition functionality.
It is a software that offers a variety of features for the happiness of its users. They understand :
Available in 9 languages,

Cloud and Mobile real-time collaborative solution with Offline and Low Connection,

Warehouse Inventory Management – ​​WMS, Factories, Stores, Vehicles, Urban Hubs, Darkstore…

Management of the extended Supply Chain (stocks, orders, needs): Suppliers, Partners, Customers (consigned stocks),

Distribution management: Last mile delivery with proof of delivery (POD), Click And Collect, Drive, Urban Hubs, Locker management, Reverse Logistics, etc.

Centralization of omnichannel/unified orders – OMS with stock feedback and real-time tracking,

Management and planning of team work orders,

Optimization of reception/preparation with remainders,

Tracking of equipment and parcels with IOT tracking with reservation, loans and rentals,

Complete/centralized traceability of business processes,

Personalization of the solution with your fields, your business processes/Workflow – BPM/RPA

Control tower with data visualization (+10 native dashboards),

Replenishment forecasts with Artificial Intelligence – APS to reduce shortages and improve Working Capital Requirement – ​​BFR.
This software also has a reservation module that allows supervisors to reserve equipment or products for specific customers or suppliers. In addition, it is a module that allows you to better generate work orders to keep an eye on the stock managed by employees. Thanks to the booking module, companies have the possibility to better manage assembly, production and kitting operations. It also facilitates the assignment of variants and serial numbers to maintain different editions of the same product.
Who is the Monstock software for?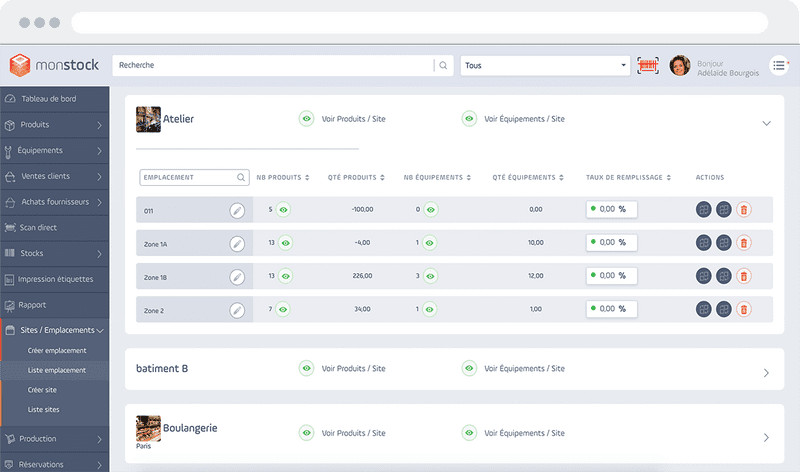 This mobile stock management software for customers from different backgrounds: Retail, E-commerce, Facilities / Maintenance, Industry, Services, Energy, Food, Hospitality, Transport and Storage Logistics, Urban Logistics, Last Mile Delivery and Hubs Reverse urban. Monstock has great signatures in France and internationally with major accounts such as H&M, SNCF, FM Logistic, Dalkia, Metro, etc. In addition, this software is also suitable for growing companies such as Feed, La Gentle Factory, La Manufacture Urbaine.
Monstock is a solution for companies that want to revolutionize stock and inventory management in a simple, fast and complete way from a smartphone. For this purpose, it offers a cloud + mobile solution. It is a fully customizable solution. Thanks to Monstock cloud and Mobile, you can work with several people at the same time from anywhere. You can permanently connect to your stock and feeds.
It allows your storekeepers, your sellers and your sales representatives to offer a better quality service to customers just by accessing the product sheets from their position. They can easily draw up a quote, check the stock status, track the order and many more. Also, it should be noted that Monstock is a tailor-made solution. You can easily integrate it into your information system or simply adapt it to the graphic charter of your structure.
What are the advantages of Monstock?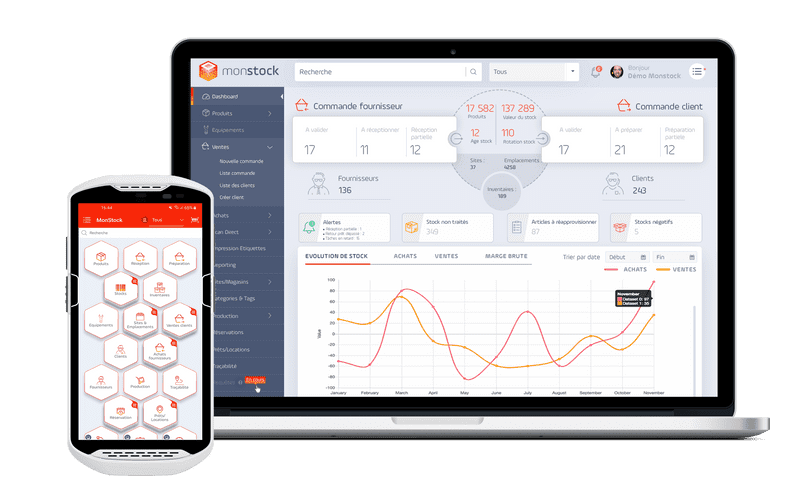 Omnichannel and agile, Monstock saves time by taking control with a collaborative and Smart Supply solution capable of addressing all segments of the Supply Chain. This stock management solution, present in France and internationally, provides connected, automated management for agile use and complete traceability for VSEs and large companies alike. It allows companies to gain in efficiency by taking control of their stocks / flows, in order to bring them productivity, simplicity (UI/UX) and serenity. It's the Smart Supply solution with 360° visibility!
It offers to interface with the existing Information System of companies as well as market leading solutions: ERP , Ecommerce, CRM , Marketplace, FSM, Accounting, 3PL, carriers etc. The Monstock solution stands out by easily adapting to your operation and integrating into your application's ecosystem with more than 3,000 connectors available. Users of this software can enjoy full real-time and collaborative hypermobility. Access to the solution is possible through a monthly or annual subscription.
Monstock makes it possible to manage multiple use cases, which makes this solution the most complete and competitive on the market.

Managing your stocks

quickly

and

easily

is possible thanks to Monstock.
Monstock makes it possible to digitize, simplify and automate the management of stocks and flows.

It is the innovative solution available on cloud and mobile, complete, in real time and accessible everywhere.
Ultimately, Monstock is the cloud and mobile solution. It is the stock and flow management software that allows you to access your stock in real time anywhere in the world. It is an innovative solution to simplify, digitize and automate the management of flows and stocks. Omnichannel, digital and agile, this tool helps companies to increase productivity in the management and monitoring of their stocks and flows on a daily basis.