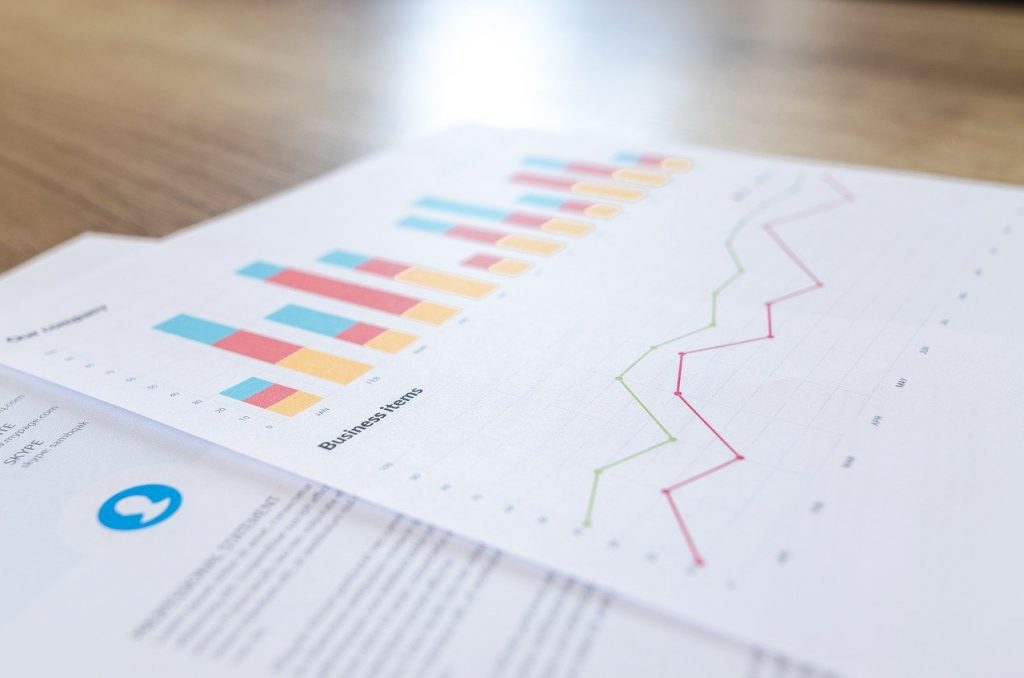 With reporting as a support, favorable decision-making by managers becomes easy. It gives a very detailed overview of the situation of the latter while revealing its weak points. This thus makes it possible to identify at once the different equations to be solved for its dynamism. In this, reporting is an important benchmark for any leader who wants to be effective and efficient. This process actually consists in exposing in a simple and clear way the general state of the company after a period of exercise. Thus, all the staff of the company can, in view of the statistical data and the various analyses , realize the current situation in relation to the objectives set.
As important as it is, good reporting requires meticulous and professional work. Fortunately, several tools are available today to help managers produce their activity report as simply as possible with much more efficiency. This is obviously software specially designed for the task. These make it possible to analyze numbers, present them graphically and evaluate data relating to a specific product with great precision.
Discover, through this article, our selection of the best reporting tools that can be used to put your business under the scanner.


1- Plant Analytics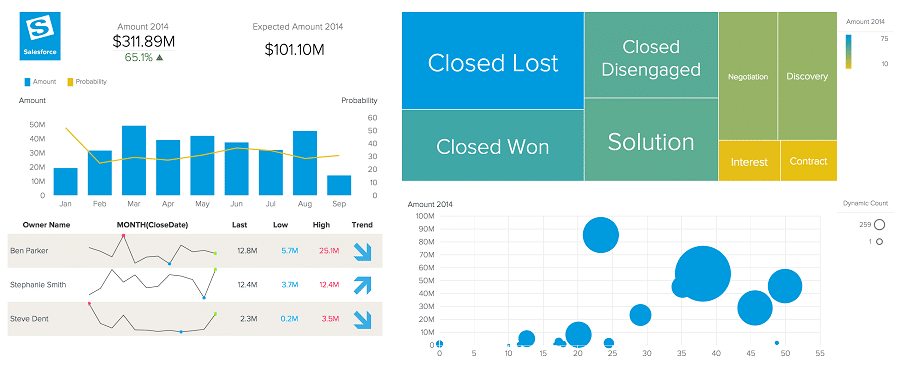 With Bime Analytics , you don't have to cram your brain with statistical data. This software is practical for anyone wishing to do their reporting effectively, but who has not received any advanced training in this regard. It is compatible with all services and has a simple interface for its handling. Regardless of your industry, you can use Bime Analytics for your reports. The software is able to produce Dashboards to help you achieve a highly professional job.
Thanks to Bime Analytics, you have the possibility to share data whenever the need arises and this data is subject to non-SQL integration. Best of all, the software offers compatibility with Dropbox, Facebook, Intercom and many other programs to make data collection easier for you. Bime Analytics is simply a major ally in reporting for any business manager.
2- Jaspersoft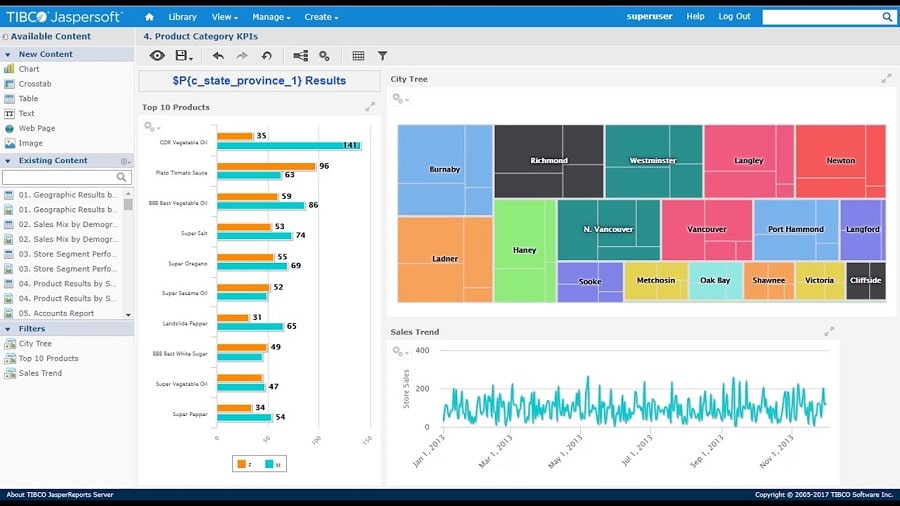 Data collection becomes child's play with Jaspersoft . This remarkably intelligent reporting software is particularly responsible for gathering the information necessary for a good report from the indicated sources. It is able to present ad hoc reports usable on the web or compatible with mobile devices for faster use. An important advantage for decision-making.
Added to these automatic data collection features, Jaspersoft has interactive viewers that allow you to perform very useful tasks for a more aesthetic report. With Jaspersoft, you can easily integrate your reports into applications and also share them by email with all company staff. In addition, a report produced with this software can be modified at will for possible updating.
3- Pentaho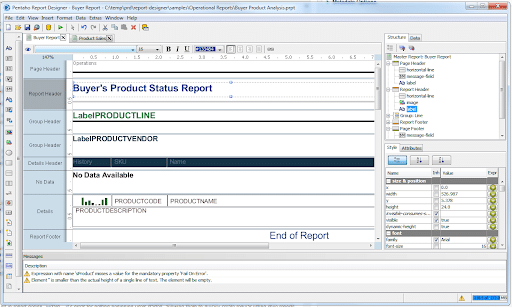 Pentaho is one of the most widely used reporting tools given the multiple features it has. It is simple, very practical and allows you to create a dashboard for more professional use. You can also do Data Mining using Pentaho and analyze your data as needed. This software regularly monitors the various performance indicators of your business, allowing you to make strategic decisions as it evolves. Pentaho is the ideal software for small and medium-sized businesses.
4- MyReport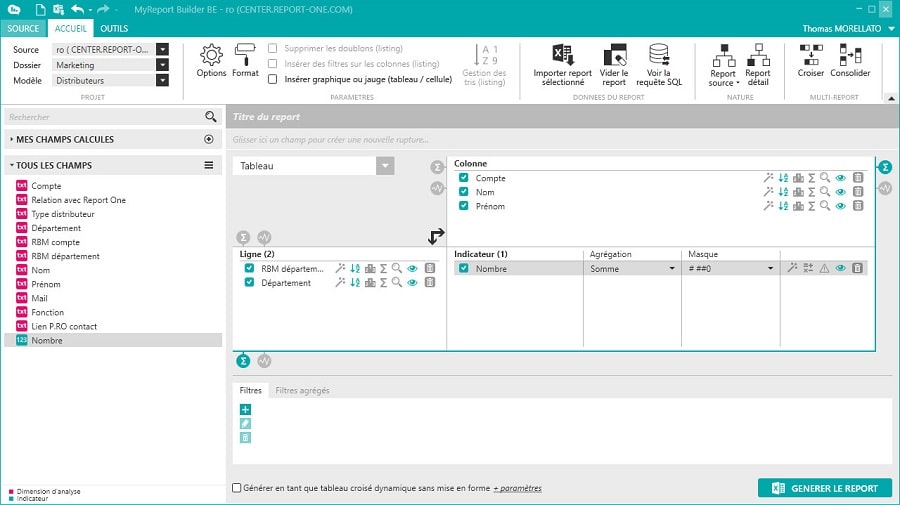 If you were totally focused on Excel, you will definitely stick with MyReport . As simple and practical as it is, it is the right reporting tool for small and medium-sized businesses. It is generally in high demand by CFOs and has the same functionalities as Excel . Something innovative with MyReport is the possibility of making the execution of certain often repetitive actions automatic . The software also allows data extraction for good visibility of the company's results. The creation of dashboards is also possible on MyReport.
5- Power BI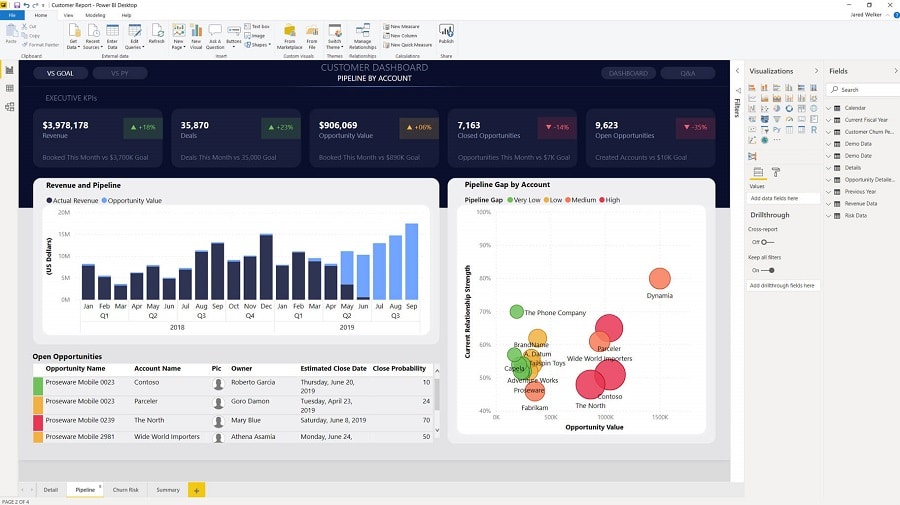 Launched by Microsoft, Power BI is a very powerful reporting tool. It is a software that allows the sharing of data in a secure way. It offers several features, including data storage, analysis, and management. The possibility of creating dashboards is also available on Power BI as well as the interactive visualization of the analyzes carried out. In a word, it is a complete reporting tool that can be used by professionals and amateurs alike.
6- EMASphere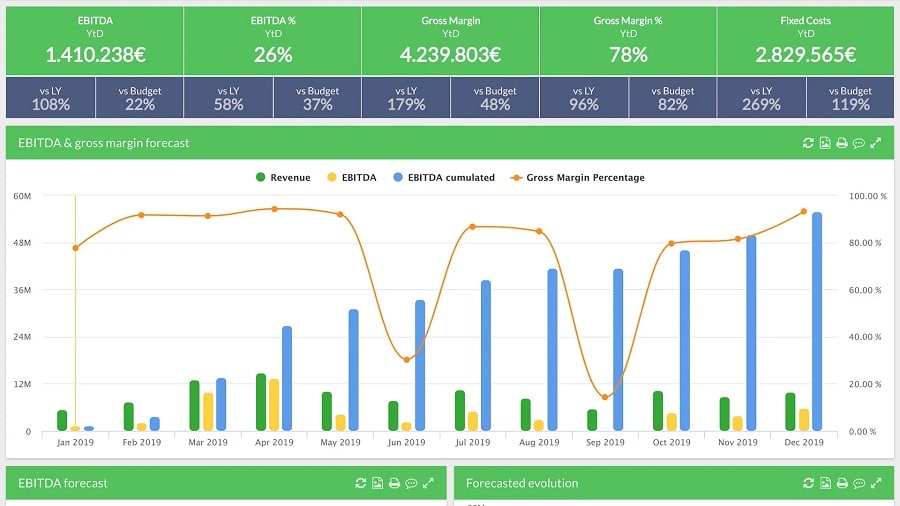 EMASphere is a reporting tool that highlights your preferences. You have the possibility to customize the dashboards generated by this software according to your taste. With its multiple features, EMASphere is undoubtedly the best software you need for monitoring your business. It is a perfect collaborator who supports extra-accounting entries and who can be connected to other editors including Odoo, Quickbooks, ERP software , etc.
With EMASphere, it is a global overview that the performance indicators of your company, which allows you to make important decisions at the right time. Better, it establishes future estimates to guide your decisions in a precise way. It focuses much more on the financial side of the business, taking care to give the data rigorous treatment.
7- DigDash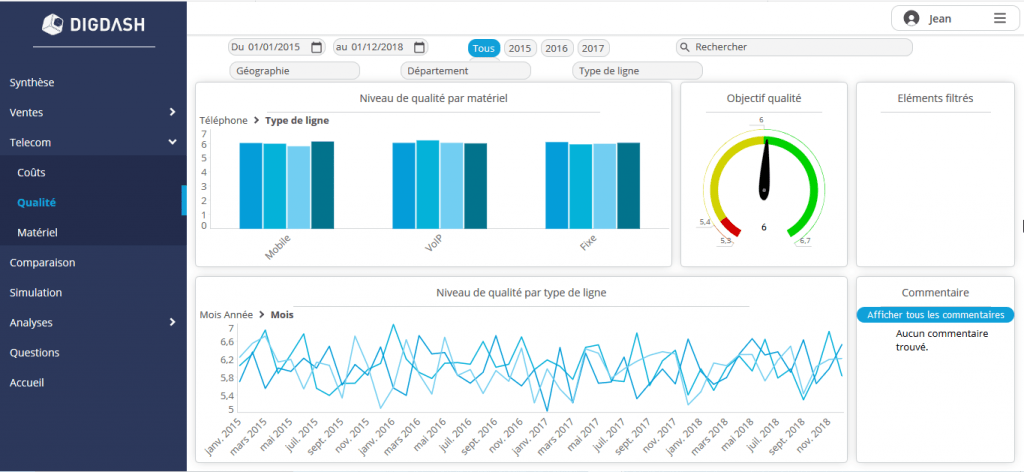 DigDash is a great reporting tool that is suitable for all trades. It is a reporting tool that allows you to take advantage of the power of an SME's data for good decision-making. It allows business managers to have a global view on the health of the business since it provides all the performance indicators of the business. It facilitates the exploration of qualified and structured data used by HR, marketing, finance or production managers. It is an ultra-powerful tool that can manage large volumes of data. It also facilitates collaborative work . It is recommended for those who like to work in a team .
8- Zoho Analytics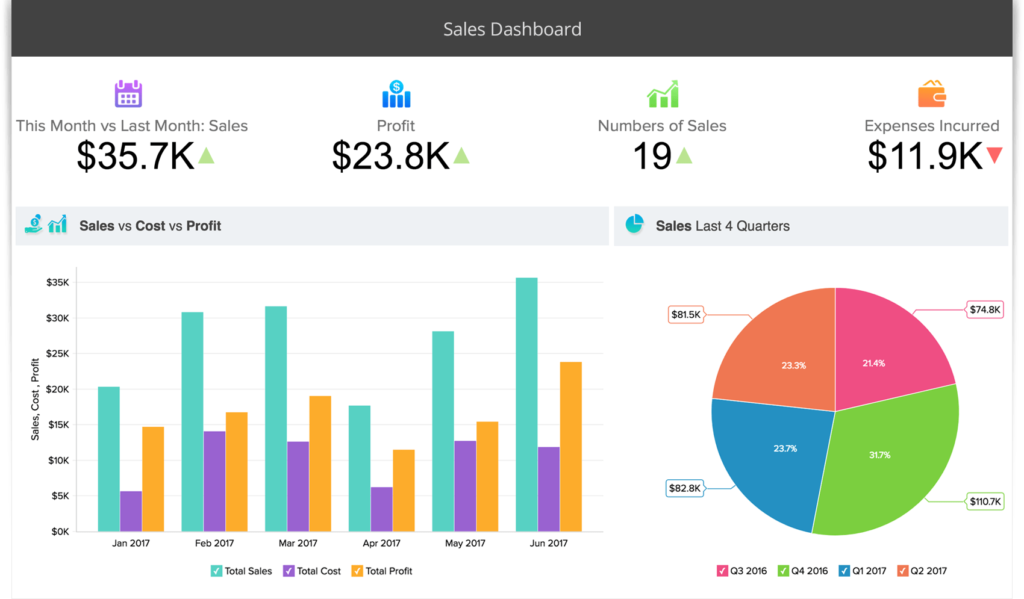 If you need reporting software that's easy and simple to use, you've got it covered with Zoho Analytics. With such a tool, you can easily create actionable reports in just a few clicks, regardless of the data. This software can provide its users with smart answers through its AI-powered assistant.
Zoho Analytic also has 100 connectors for business apps, with pre-built reports and dashboards, popular databases, and cloud drives. This reporting software uses NLP, AL and ML technologies. It is free, but also offers other plans like a basic plan which requires a subscription of $22 per month, a standard plan of $45 per month, a premium plan of $112 and an Enterprise plan of $445.
9- Expensya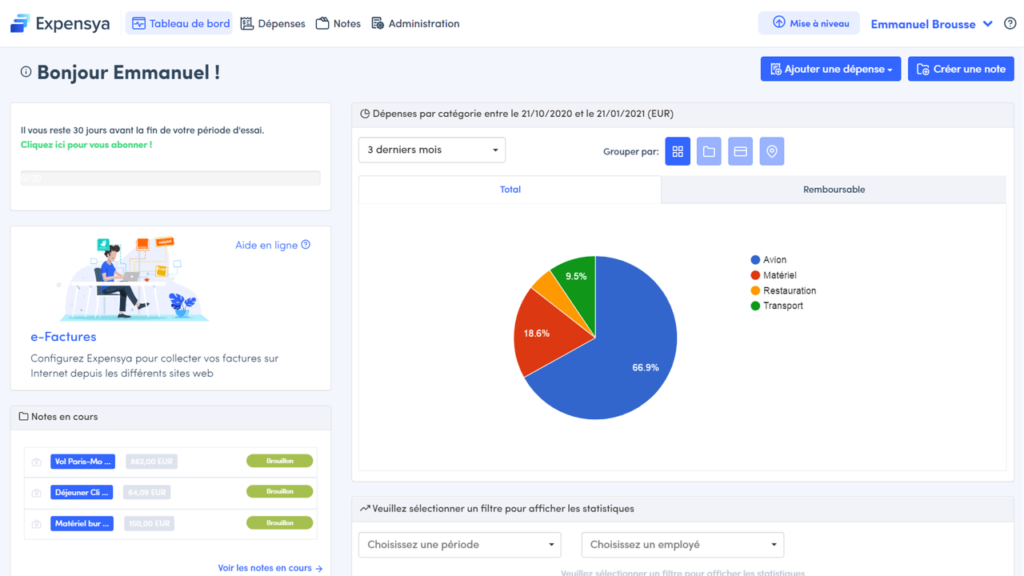 This software is an intelligent tool for managing expense reports. It facilitates the automation of this process, but also provides intelligent statistics in the form of a dashboard. Expensya offers on its ergonomic and fully customizable interface an advanced BI module with interactive reports that lists all the company's expenses by employee, by project or by department. Expensya is therefore an expense tracking tool that the company can use to visualize and manage all of its expenses, detect opportunities for financial savings and to identify the different cost centers.
Reporting tools allow a good reading of a company's situation in order to make good decisions and make forecasts for the future. Thanks to these tools, thousands of companies improve their position on the market. At the same time simple, practical and very effective, they offer business leaders considerable time saving in the development of activity reports. You can access a variety of these tools on the internet. But it is important for you to choose the best one for your needs in order to derive optimum satisfaction from it.