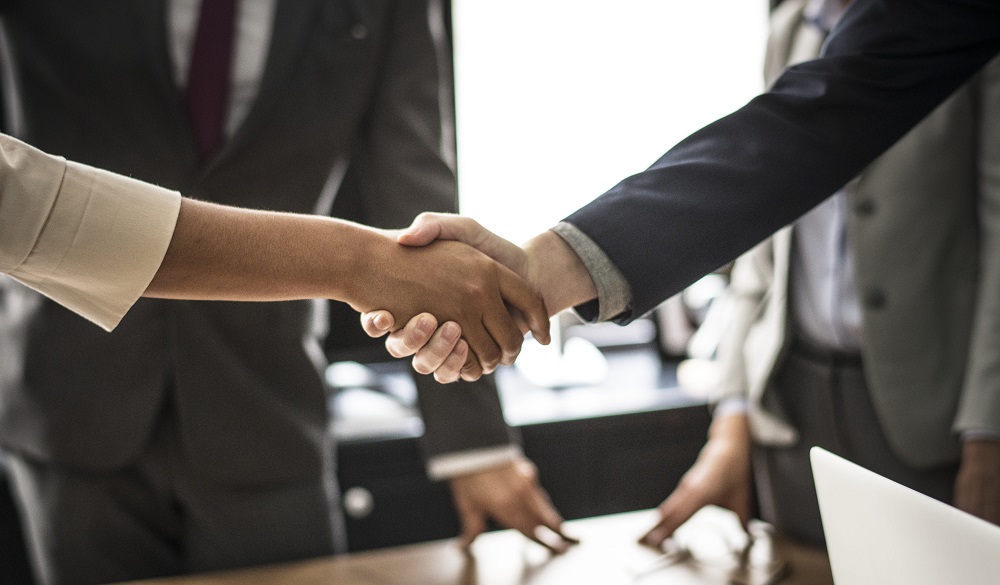 Recruitment is a major operation for all companies, whether small or large. They must be able to retain the best candidates to enable them to remain competitive on the market. This is why it is important to place special emphasis on the entire process so that recruitment is carried out under the best conditions. This recruitment should therefore not be treated as if it were an administrative task, but should rather be taken seriously as financial management.
Finding the best talent that can enable the company to achieve its objectives therefore requires a well-oiled organization. For this, it is important to acquire the best recruitment solutions such as recruitment software in order to find the best elements that the company needs. Discover in this article our selection of the 7 best recruitment software that will be useful to you in your approach.
1- Recruit CRM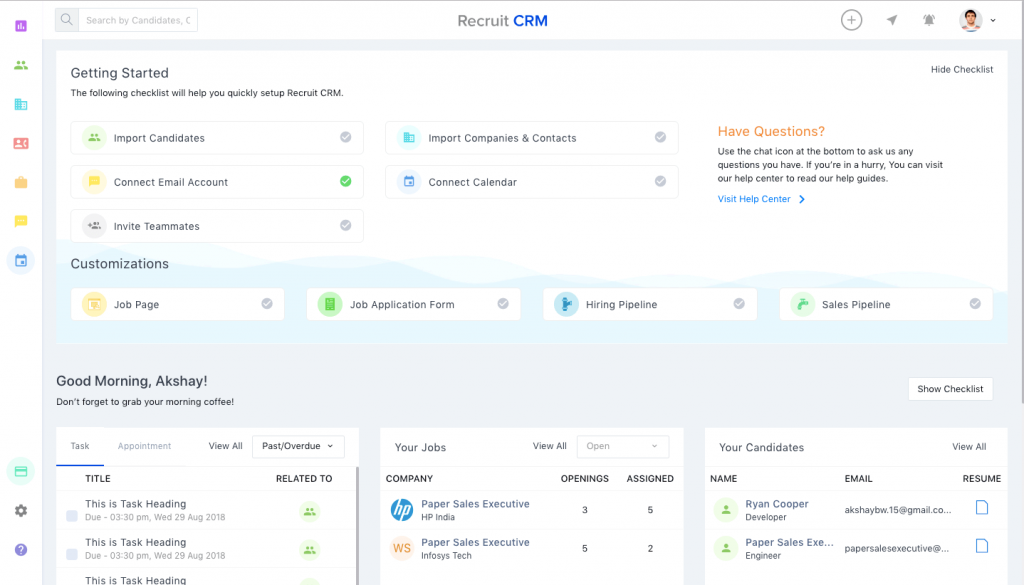 If you are looking for a better tool that can help you analyze the various resumes of candidates, you have what you need with Recruit CRM . This software is ideal for recruitment agencies and managers for a good management of their daily activities. Recruit CRM is a recruitment software with CRM+ ATS.
It comes with the best job application, client, and contact management features in addition to being a great job posting tool . In addition, it should be noted that this recruitment software allows its users to send and receive e-mails directly from its interface. A CV analysis tool is integrated in order to allow a good analysis of all the CVs attached by e-mail.
2- Zoho Recruit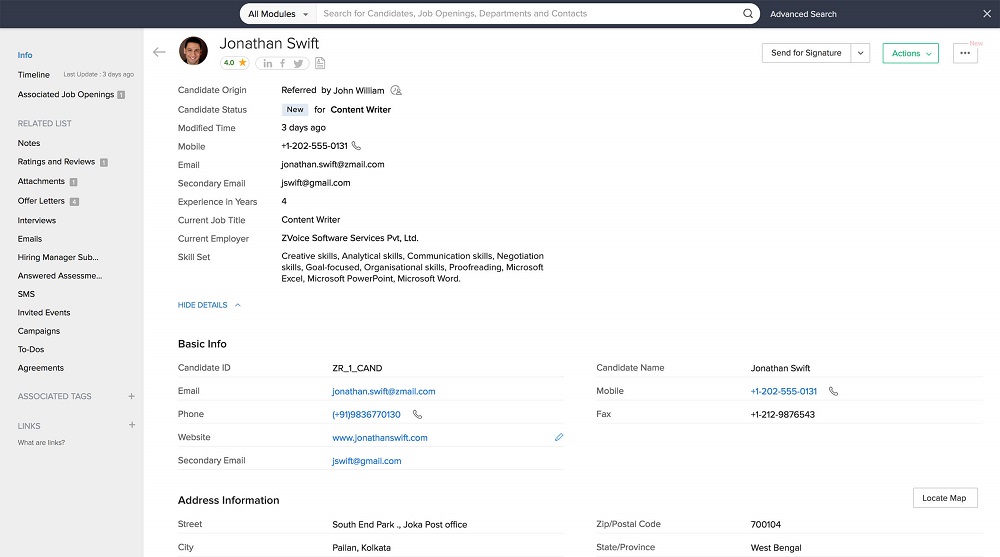 Zoho Recruit is an all-in-one recruiting software. This software is suitable for all recruitment firms and in-house recruiters in that it allows them to register and sort all applications. It offers a wide range of features to facilitate and streamline the entire recruitment process for recruiters and managers. This software assists the recruiter from applying for a job opening to scheduling interviews with candidates.
Zoho Recruit allows you to do a thorough analysis of all the profiles received in order to allow you to find the profiles that best match the positions to be filled. With its simple and intuitive interface, the recruiter is sure to be able to find the most suitable candidates for the different positions. Note that this software works in SaaS mode and can therefore be used on any medium.
3- Recruitee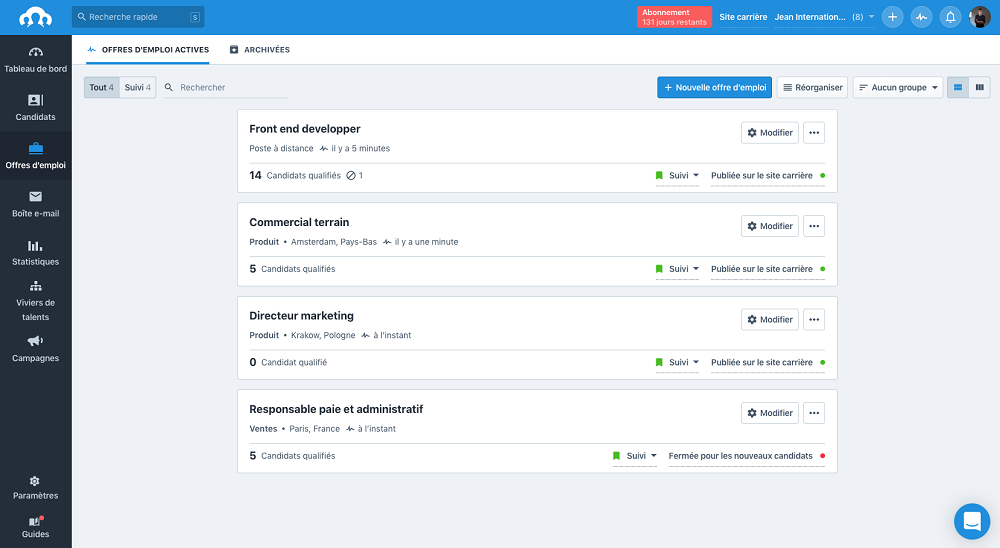 Recruitee is an excellent recruitment tool that is of great use to you in the creation of a career site, the management of job offers, the management of the work of collaborators and recruiters. It also allows a good analysis of HR performance . With this tool, the company has HR software to analyze CVs and recruit a good workforce.
In addition, Recruitee offers its users very advanced features to automate their recruitment process, assess the skills of different candidates and to post automatic ads on many recruitment platforms .
4- Flatchr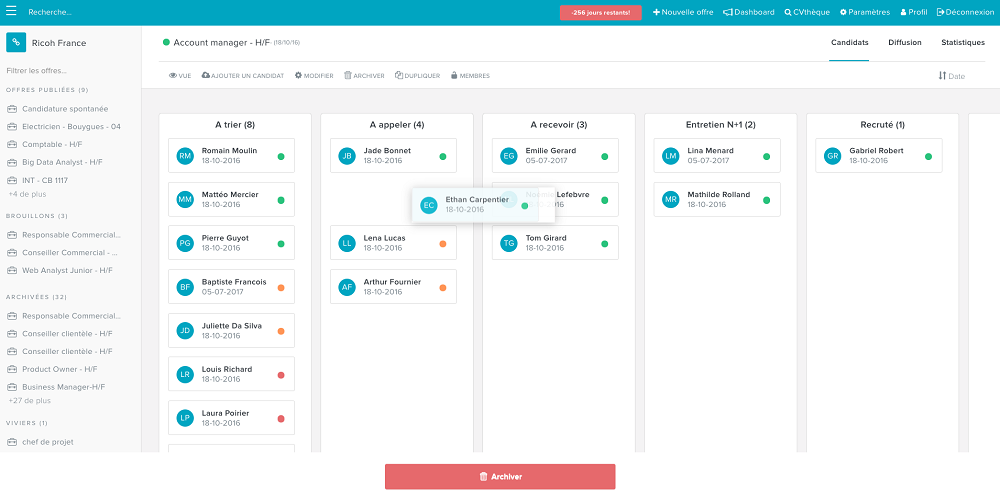 Flatchr is one of the best recruitment management tools available on the market today. It is a recruitment software made available to HR managers, executives or managers looking for a simple and very complete tool to manage applications. It is ideal for SMEs looking for automatic, complete and easy-to-use solutions. This software therefore makes it possible to post advertisements on all job boards as well as on the career site in order to increase the chances of finding the right profiles. It can also receive and centralize all the applications received.
With this tool, you can easily analyze the origins of the different applications. Flatchr also turns out to be a collaborative tool in that it allows interaction with different managers. It also has a cooptation tool that facilitates recruitment via the various networks. It is a very appreciated software, because it offers a real saving of time. With such a tool, the recruiter has all the tools necessary for recruitment, namely a wide distribution of offers, hunting, management of applications, co-option and the career site.
5- iSmartRecruit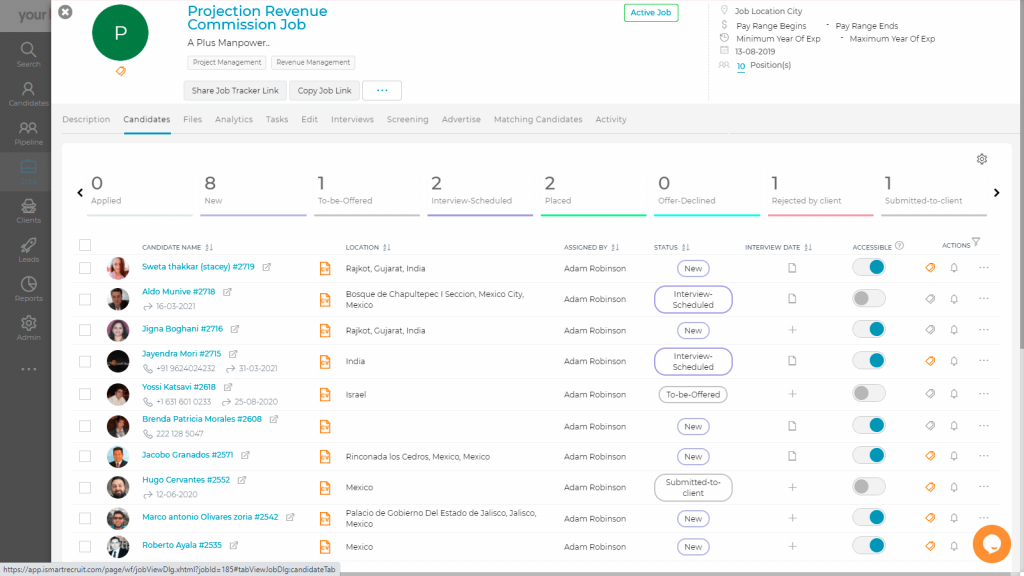 This software is downright a customizable applicant tracking platform (ATS) that is entirely designed to facilitate the recruitment process for companies looking for human resources. iSmartRecruit is a very secure and multilingual online recruitment tool. It is equipped with the best features like candidate search, analysis of CVs of different applicants, third party access, SMS, Outlook add-ons, professional promotion, e-mails and reporting . It is a recruitment software that is well suited for recruitment agencies.
6- WebHR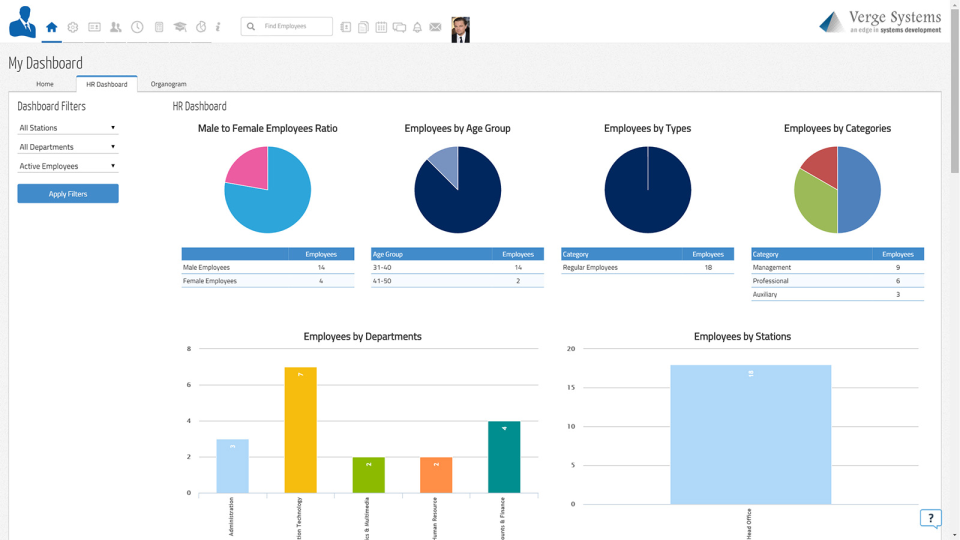 Need all-in-one recruiting software? WebHR is the best solution for you. Indeed, this recruitment software helps you throughout the recruitment process, from hiring to retirement. It is cloud-based and works well for all kinds of small and large businesses. In addition to allowing companies to find the best workforce, this software allows them to save money, increase productivity , improve inter and intra-office communications and also save place in the market. It is a recruitment software with many features to distribute job offers and analyze applications in order to retain the best profiles for the positions to be filled.
7- Hiretual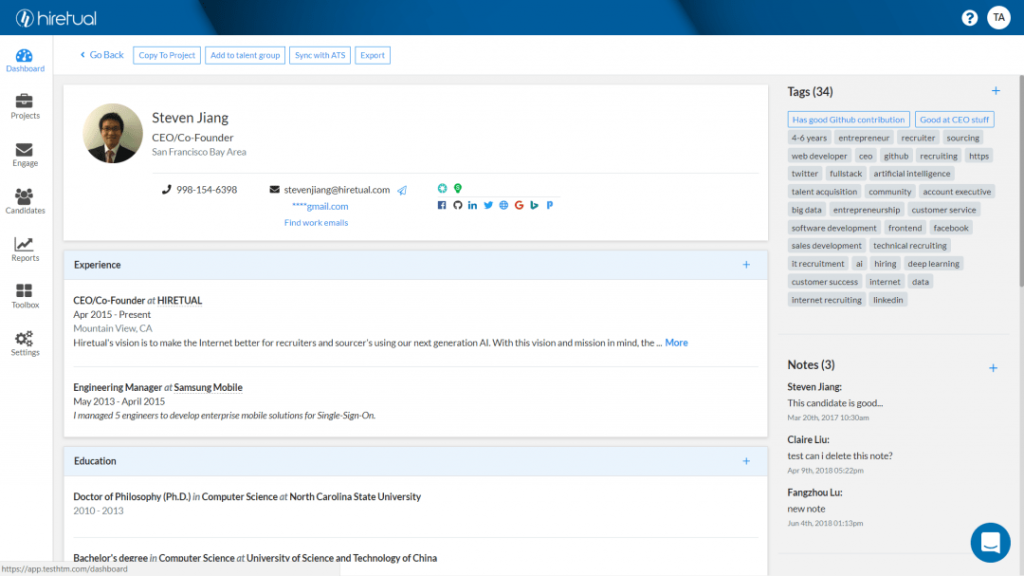 Hiretual is one of the tools most appreciated by recruiters, because it allows them to go ten times faster in their recruitment process. This recruitment tool allows you to post job offers on more than 30 platforms to find the best profiles out of more than 700 million available. Thanks to Hiretual's AI sourcing assistant, the manager or the recruitment firm is sure to find the right seeds that the company needs to achieve its objectives. Indeed, this AI sourcing assistant works by prioritization in order to allow the recruiter to directly contact the best candidates. With this software, the analysis of applicants' CVs is quick and very efficient.
Conclusion
Recruitment software is a great asset for any business. It is a tool that not only helps to find the right manpower, but also saves time in the recruitment process. The creation, distribution and monitoring of the entire recruitment process are ensured by a single tool. If you are therefore a recruiter or a recruitment agency, you cannot fail to use recruitment software to optimize your work. You will certainly find the software that meets your needs among the various recruitment software that we have presented to you in this article. Your turn now.