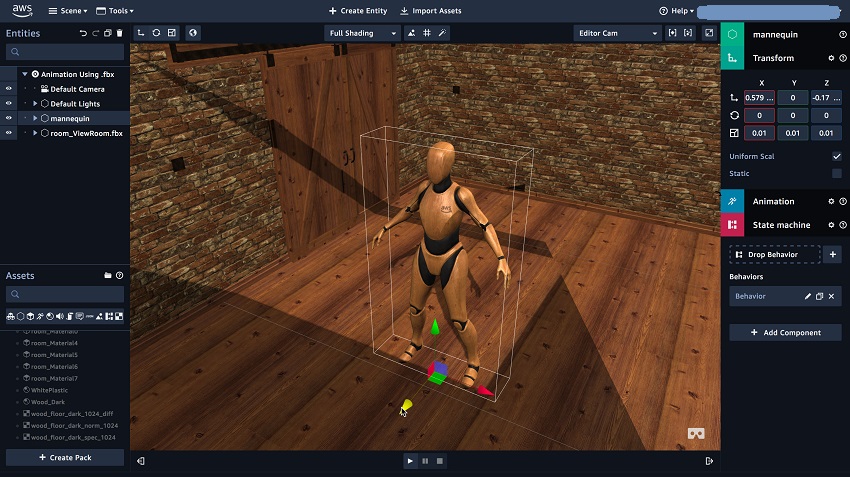 Virtual reality is an innovative technology that has been gaining ground in recent years, especially among young people. If the creation of virtual experiences (VR games and applications) was once the prerogative of programming and graphic design professionals, today it is accessible to everyone. All you need is a virtual reality creation tool or software to get started. However, the tools and software dedicated to the creation of virtual reality are legion on the market, which can make the choice difficult for some Internet users, because the risk of falling on inefficient software is great. This is why we have selected the 7 best virtual reality development and creation tools and software for you.
1- Unity

Unity is very well known in the video game development community . This software has now launched on the virtual reality creation market on which it intends to establish itself. If you are a fan of video games, you have certainly already played one of the games created from this platform. You just have to go to its site to see the number of downloads made (more than 3 billion devices). This platform owes its popularity mainly to its low cost. It is accessible free of charge to students and self-employed workers if they can generate less than $100,000 in income. As for teachers, they must complete an educational license application to initiate students or simply to install it on more than two devices.
This platform is not only limited to the creation of the original VR games. It also allows its users to develop VR solutions for different industries such as construction, automotive, media and others. It is a platform that is easy to use. Nevertheless, it is necessary to have some knowledge in programming and 3D modeling. There are a large number of tutorials on YouTube that can help you learn how to use this platform. Similarly, it should be noted that Unity does not receive any royalties on the sale of games developed from its site. The platform also offers several types of export formats.
2- Google VR

The Internet giant Google is always present wherever there is talk of cutting-edge technology. Indeed, this firm provides its customers with a range of VR creation tools that can be accessed from the Google VR developer portal . These are tools that allow the development of VR applications from different platforms such as iOS, Android, Unity, Unreal to name a few. With this platform, the user will have access to several software development kits (SDKs). It also offers a complete guide that makes it easy to create VR software for Oculus, Google Carboard and many others.
3- Amazon Sumerian

Wherever Google is mentioned, Amazon is never far away. With this platform, Amazon allows VR enthusiasts to create their own VR and AR directly online. Like previous tools, Amazon Sumerian is easy to use. The user does not need to have any skills in VR programming or 3D graphics before using it.
In addition, this platform is compatible with many other tools like Oculus Rift, Vive Pro, HTC Vive Pro, Google DayDream, Lenovo Mirage, but also with Android and iOS mobile devices. It is a platform that embeds the best features like hots, asset management, editor, script for writing logic. As for pricing, the cost greatly depends on the storage space used, the number of visits and other criteria. However, the free offer it offers can only host 50 MB of data.
4- Unreal Engine

Created by Epic Games, Unreal Engine is now one of the most widely used VR game and application development platforms in the world. This platform is particularly popular with users for its ability to personalize. It is a platform that allows development of various games, even the best quality AAA games.
Like Unity, Unreal Engine allows anyone who wants to create video games and other virtual experiences for free, but for a 5% royalty on income obtained after $3,000 in earnings per quarter.
However, it is accessible free of charge and without consideration for the educational environment. The handling of this platform requires mastery of the C++ programming language. Note that to facilitate the creation of virtual reality, Unreal Engine offers Blueprint on its editing interface so that the user does not have to resort to a single line of code in development. Also, it should be noted that the platform also offers the possibility of editing its application development or VR games in virtual mode . For this, you must have a wired VR headset like HTC Vive or Oculus Rift.
5- CryEngine

CryEngine is one of the direct competitors of platforms like Unity and Unreal Engine. Marketed by Crytek, this game creation platform is very popular with 3D game developers. It has notably been used to create certain games for PlayStation, Oculus, Xbox One and many others. CryEngine offers very advanced features such as the ability to quickly create characters and insert better visuals into the application or game. It also offers a bagbox and revolutionary tools for creating VR applications and games as well as built-in audio tools.
6- CoSpace Edu

It is a web-based platform for creating high-quality VR games and applications. If at the beginning the application was accessible to all, it has recently been dedicated to the educational body only. One of the major advantages of this platform is that it can be used both on PCs, but also on mobile devices. Its partnership with MergeVR now allows it to facilitate the creation of VR applications and games that can be used on Merge Cube.
In addition, it should be noted that CoSpaces Edu offers its own visual programming language: CoBlocks. It is a programming language that allows you to code interactions and actions from predefined blocks of code that you just have to drag and drop. Nevertheless, coding professionals have the option of writing their own lines of code (TypeScript or JavaScript). This platform is available in several languages ​​such as French and offers several versions including the free one which only allows a limited collection of 3D objects and the number of seats is limited to 30.
7- Tilt Brush

Let's finish our selection of the best tools and software for creating virtual reality with another platform put on the market by Google. It is a platform that allows users to develop VR games and applications with 6 different degrees of freedom just by using VR headsets like Oculus Quest, Windows Mixed Reality, Oculus Rift, Valve Index and others.
Tilt Brush allows the developer to move freely around and within their virtual creation. Likewise, it offers different types of brushes with a variety of textures and pre-built environments to facilitate the development of the application or game. With Tilt Brush, the developer can export his creations into all kinds of 3D modeling applications like Unity or just share them on the internet just using Google Poly.