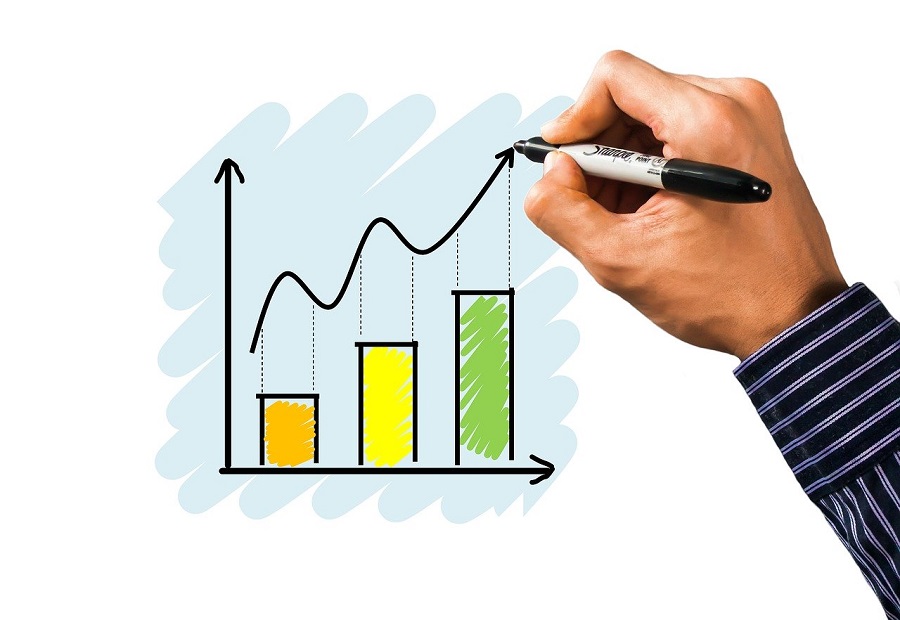 Statistical and data analysis software have nowadays become essential solutions for all companies and platforms wishing to measure their performance. In recent years, these tools have gradually improved. With these software, it is now possible for a large number of developers to interpret many analysis and data collection results with much more precision. Here is a selection of the best statistical software.
1- MICROSOFT EXCEL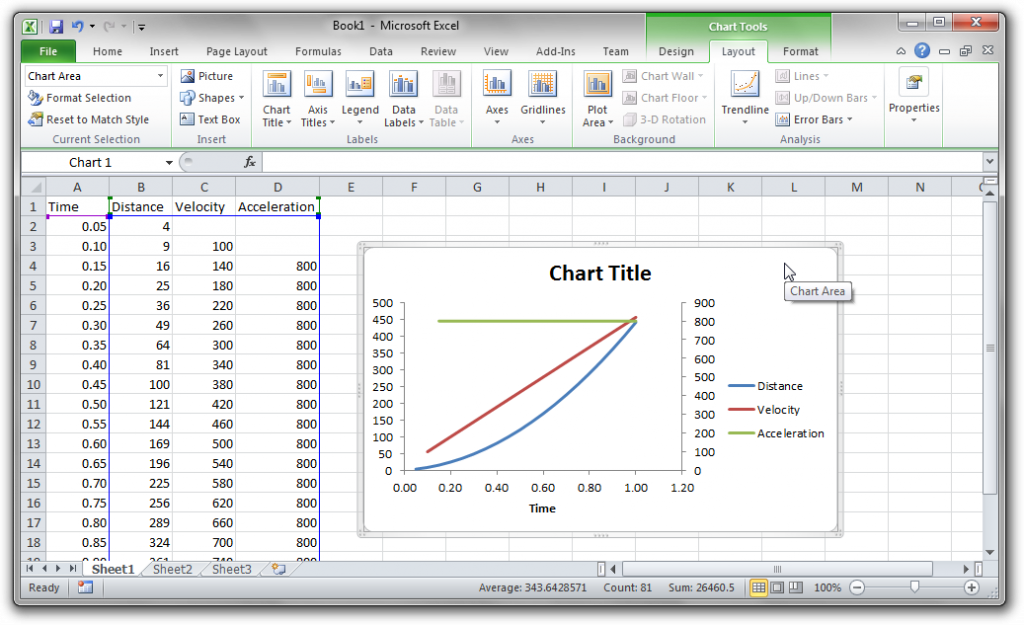 Microsoft Excel is undoubtedly the most basic data analysis and processing software, given that it is directly contained in the Microsoft Office office package. Perfectly useful for both your professional and personal needs, this software allows you, thanks to simple and practical operations, to present, analyze and interpret from spreadsheets, a multitude of data.
Thanks to its multiple functionalities, it has a wide range of calculation tools that allow you to perform many operations such as averages, standard deviations, etc. Microsoft Excel also has more advanced options like financials, charts, diagrams and more to let you go beyond simple analysis. With a simple and easy-to-use interface. It is downloadable on Windows platforms.
2- STATE
Stata is a complete data analysis, management and interpretation solution. Statistics. Thanks to its comprehensive functions, it allows precise statistical analysis of all your data, thanks to optimized analysis and visualization tools. With a very simple interface, it is easy to use and has a repertoire of features absolutely at your fingertips. It is a professional software perfectly suited to economists and people involved in the field of medicine.
Practical, fast, precise and easy to access, Stata software is an ideal tool that will meet all your needs for analyzing statistical data of all kinds. Thanks to its efficiency, Stata rises to the top and establishes itself as the benchmark for common statistical data analysis software.
3- IBM SPSS STATISTICS
IBM SPSS is a comprehensive statistical data analysis software. This software has a vast repertoire of automated algorithms that facilitate descriptive and predictive analysis operations. It is the ultimate data analysis software, as it has many features that facilitate more efficient statistical study.
Thanks to this software, you can easily perform several operations such as calculating averages, standard deviation, sums, frequencies, etc. For a more optimal interpretation, the software offers you several models of graphs as diverse as they are varied. You can also, thanks to SPSS, export all your data to other software of your choice.
4- R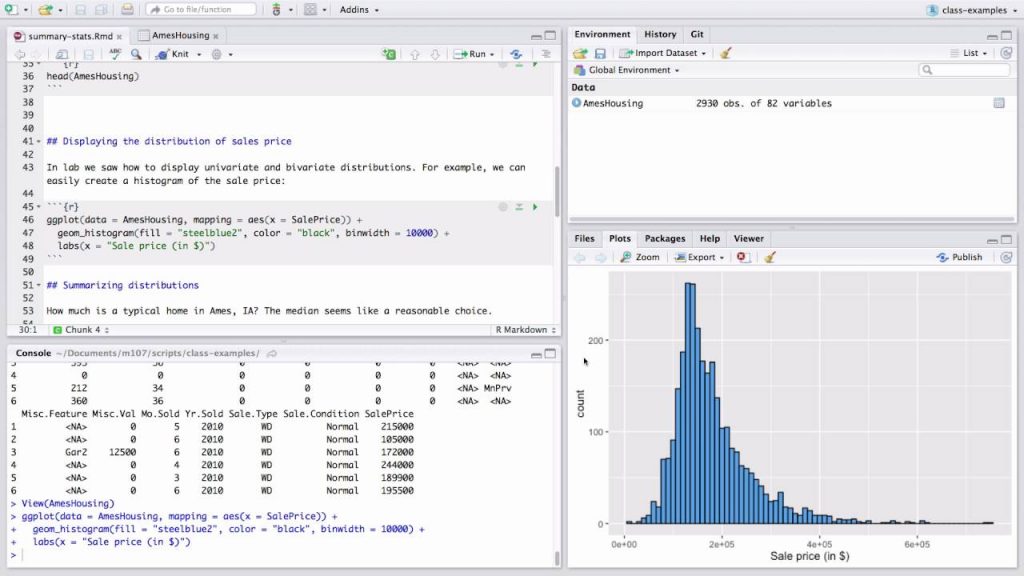 The R software is an open source statistical software that offers its users a calculation space for all your statistical and graphic operations. It is totally free and free software. Equipped with simple and practical functionalities, it allows you to easily perform a multitude of statistical operations such as clusters, linear and non-linear tests as well as a multitude of graphic operations. With R software, you have the ability to produce highly illustrative graphics with the ability to include mathematical formulas and many symbols.
R has a simple, minimalist interface and is easy to pick up. It is completely free and can be downloaded from popular download platforms.
5- SAS
SAS is an ultra-complete statistical software that offers many possibilities far beyond statistical operations. Its very extensive functionalities allow you to perform many other operations such as: point cloud analysis, data management, but also the analysis of very large data. Formerly reserved for the forestry sector, the SAS software has been able to expand to many other fields such as medicine.
SAS is an ultra-complete statistical solution equipped with several statistical analysis tools that allow you to perform statistical calculations and procedures, including graphical analysis procedures. A real data analysis tool, SAS has a very neat interface and is available in a trial version. It is ideal for health and natural science professionals.
6- STATISTICS
Published by Statsoft, Statistica is a statistical analysis tool that has a wide range of study, analysis and data management tools. It also offers graphic representation tools which make it possible to obtain, from collected data, precise graphic illustrations.
It is a very effective and practical tool that allows simple analysis of survey and poll data. Statistica exists in a free version and has a very fun interface allowing you to get started very easily. With Statistica, you can create 2D and even 3D graphics. You can also import your data into other software with great ease.
7- STATISTIX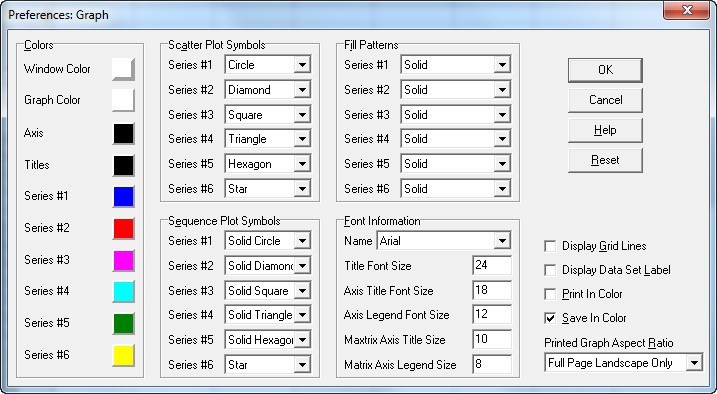 Statistix software is a great statistical analysis and programming tool that has been developed to efficiently and conveniently process all your survey, poll and study data. The software offers powerful statistical tools that are easy to handle. Thanks to its many features, it is possible to import text and Excel files to other software. You can also create and edit large subsets of data and perform their grouped analyses. You can also edit many spreadsheets and generate many results simultaneously. Statistix is ​​freely downloadable from popular download platforms.
8- MATLAB
Matlab is an IT solution that has been designed to meet the requirements of mathematics and statistics enthusiasts. It is an ideal app for math lovers. The application is full of many features that allow you to make fully customizable 2 or even 3D graphics. Easily create tables and graphs of your choice with the wide range of tools offered by the application.
The Matlab application has a mobile application with a very easy grip. Thanks to this application, you can perform many financial, statistical and economic analyses. A real practical and fun tool, this application will be of great use to you in more than one area.
9- MaxStat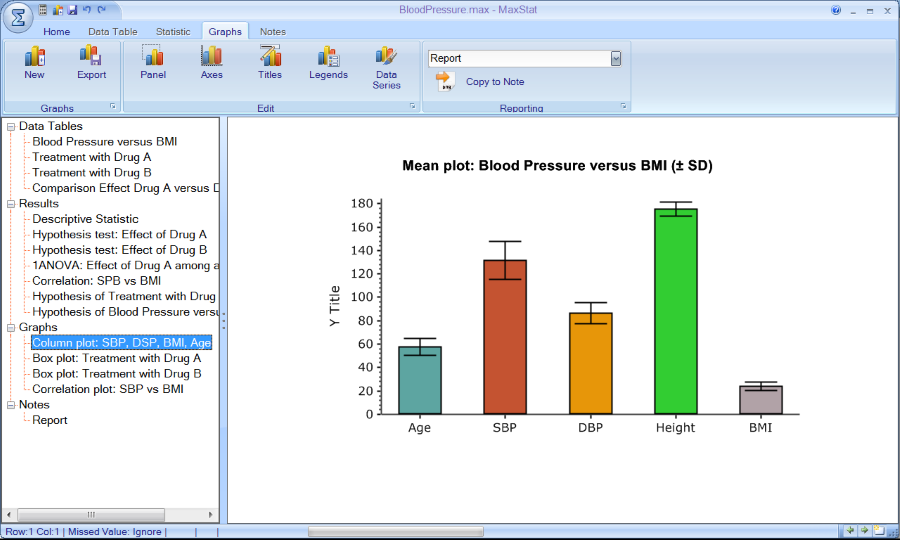 Maxstats is one of the best statistics and data analysis software that offers many features. First, it is easy to use software. Even though the software is designed to be used by professionals, note that even a beginner could easily find themselves using it. Indeed, Maxstat has some built-in features that help guide novices in statistical analysis.
Unlike other software, statistical analysis with Maxstat software is done in three steps and you can perform all three steps in one window. In addition, you have the possibility of creating highly qualitative graphs using this software after the analysis of your statistical data. Likewise, this software allows you to store your notes as well as your reports resulting from your various statistical analyses.
10- AcaStat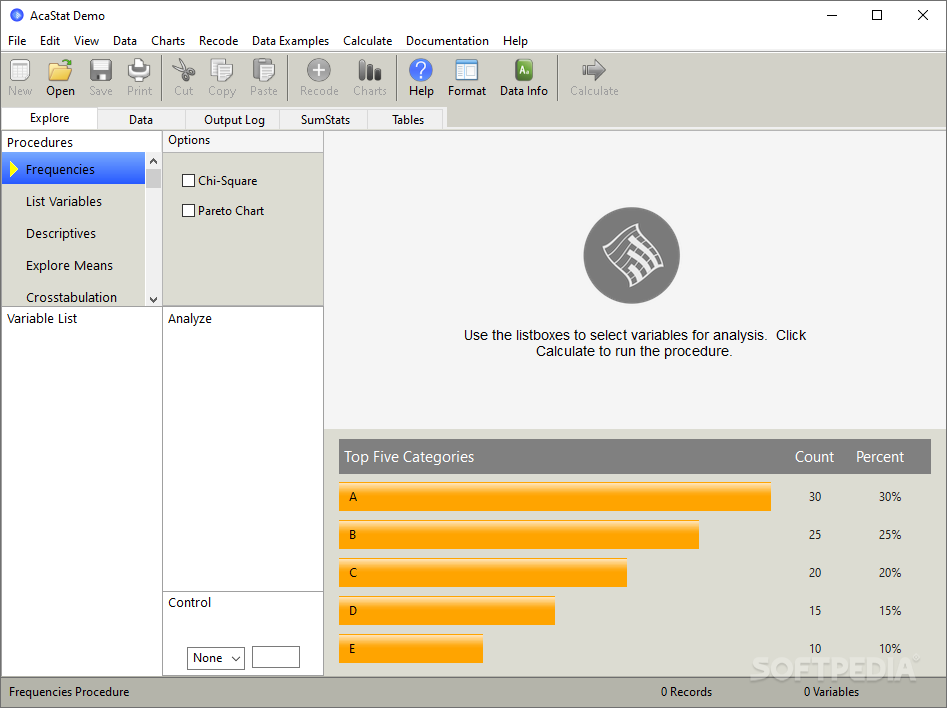 AcaStat provides these users with a range of features. If you are a statistician, this is probably the software you need to avoid being limited in your tasks. Thanks to the drag and drop functionality of this software, you can import your Excel files which contain statistical data in order to carry out your analyses. This allows you to detect missing values ​​in your file and gives you carte blanche to build a new database in the software and resume your analyses.
In addition, this software allows you to perform different types of statistical tests such as t-tests (student's test, fisher's test, etc.), chi-square tests, or linear correlation tests of Bravais Person , and many others. The advantage of using this software is that it allows you to quickly analyze the statistical data that is integrated into it, and provides you with details on your statistical analyses.
11- Jasp stats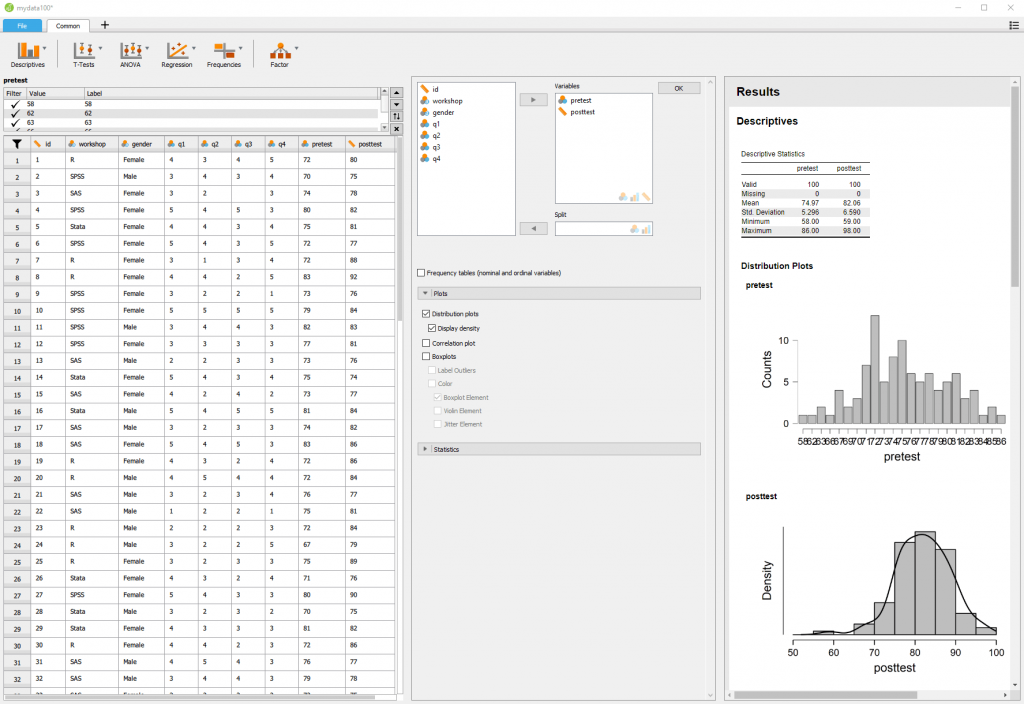 Jasp Stats stands out from other statistics software of its rank. Most of the time, it is the SPSS users who make the best use of this software. Jasp users have the option of performing their statistical analyzes using two approaches. The first consists in launching the analysis of the statistical data via the frequentist approach and the second can be done via the Bayesian approach.
By opting for this software, you will benefit from different kinds of filtering such as Kamen's, particle filters, etc. This software also allows you to use Monte-Carlo methods for your statistical analyses. Please note ! The software is completely free! You can test it to see if it meets your expectations.
12- Statwing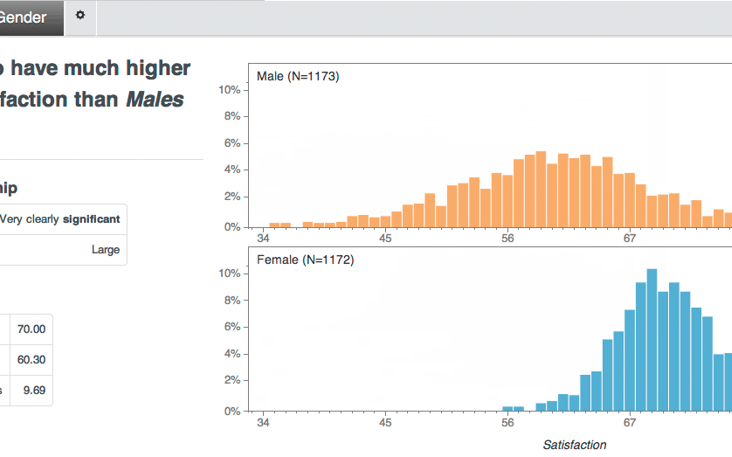 Statwing is the ideal software if you want to perform statistical analysis based on graphs. It is a very essential tool for companies that need to perform statistical analyzes to define their commercial policy, because the graphs are generally very easy to interpret. At the end of the data analysis of this software, you can get pivot tables, bar charts or many others. It all depends on the configuration you will have to set up for your analyses.