Do you feel the desire to remember the history of your family in order to know it better? you want to know precisely the respective paths of your ancestors? For this, you will necessarily need to use genealogy software. So what are the best genealogy software on the market? Here is for you our comparison of the best of the moment.



1- Ancestris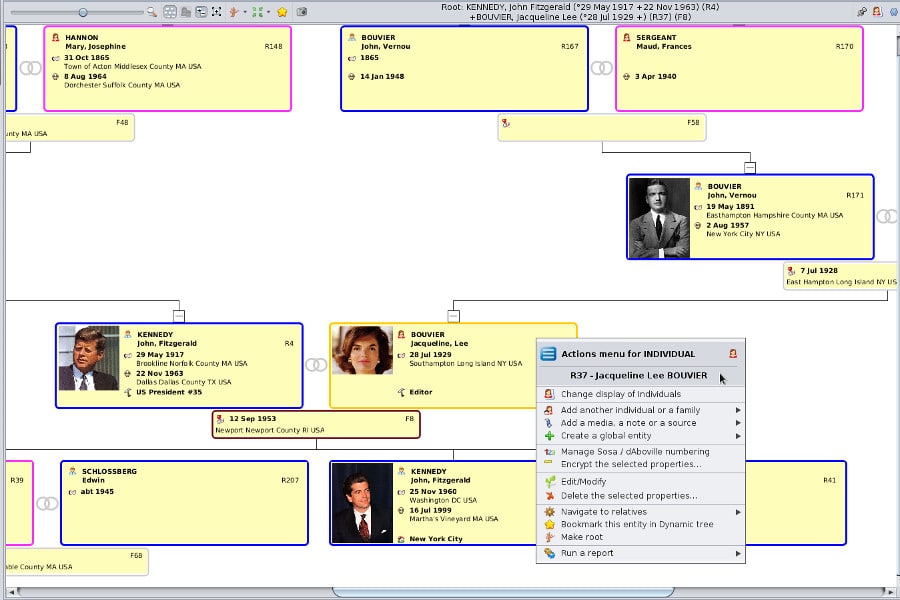 Ancestris is a real platform that develops solutions to build your family tree. It is software that has been designed and developed in France. Packed with a host of features, Ancestris is simple, customizable, and highly practical for any type of audience. Like almost all genealogy software, Ancestris complies with the GEDCOM exchange standard by meticulously applying all of its specificities. Thanks to specific information collected from someone such as their marital status, their sibling and family ties, as well as the highlights of their life, Ancestris brings you a dynamic family tree with all the aforementioned information.
2- Inherited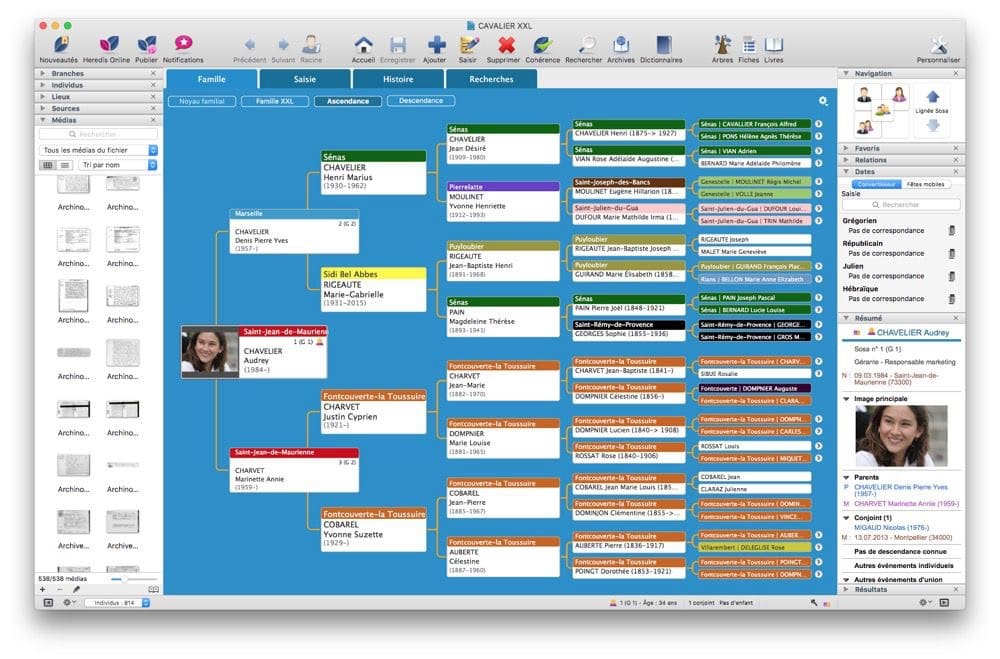 Heredis is undoubtedly one of the most used genealogy software in the French-speaking area. It is intended for all audiences, but especially for fans of genealogy. With this software, you have almost everything you would expect and hope for from a complete genealogy software. Thanks to its ultra-original navigation system, you can access the various members of the family, even the furthest away, via an information panel. It also offers the possibility of customizing your tree according to well-defined models. It is simple and easily downloadable.
3- Gramps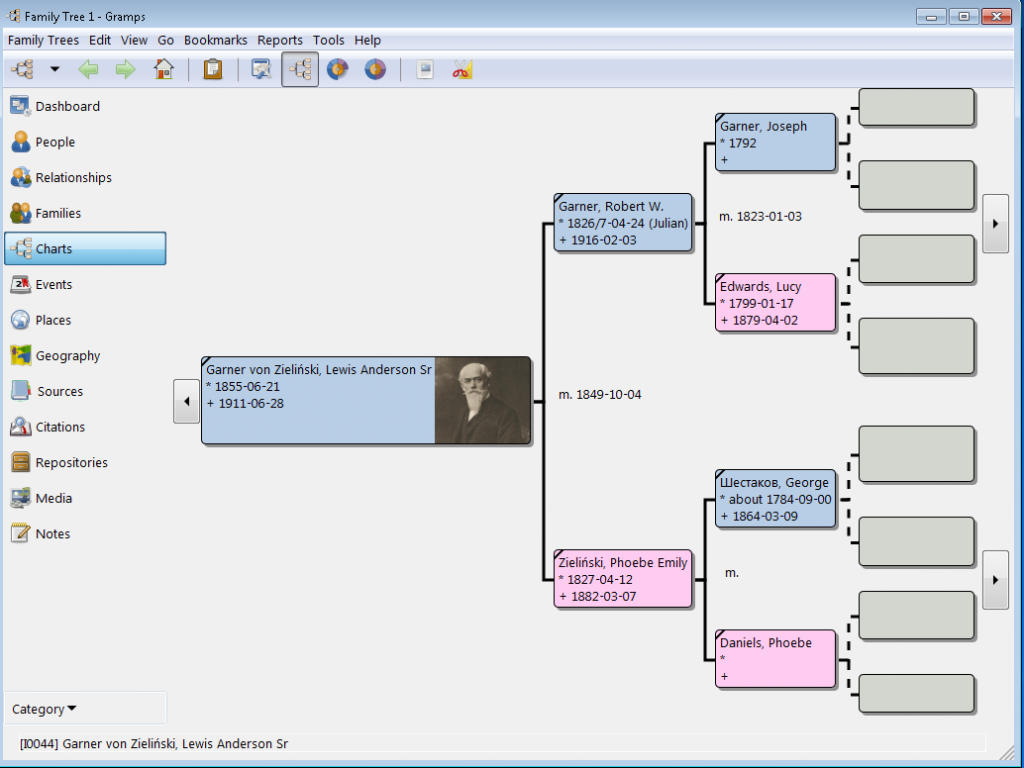 It is a software that is particularly appreciated by beginners, that is to say those who have recently embarked on this adventure. Thanks to its simplicity, it offers complete and very practical solutions. Indeed, with Gramps , you can design a complete and above all very interactive family tree with the possibility of integrating a geographical map as well as attachments for more details. Thus, with Gramps, it is very easy to inform a member of his family with a mosaic of personal information on the person concerned, starting from his marital status up to his links with other members of his family. It is entirely in English and is easily downloadable.
4- Ahnenblatt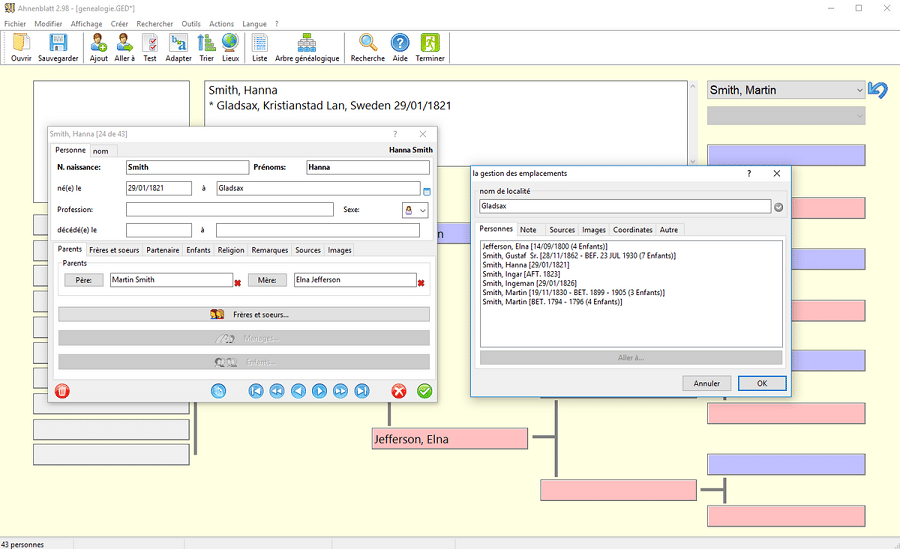 Ahnenblatt is beginner software and only available on Windows. Thanks to this software, it is easy to build quality family trees and with ease. By using the GEDCOM exchange standard, it can support the import and export of files in HTML format. In this way, all information relating to civil status and sibling, parentage or relationship ties are easily integrated. The software is very easy to use. It is in French and is perfectly suited to a novice audience.
5- Family tree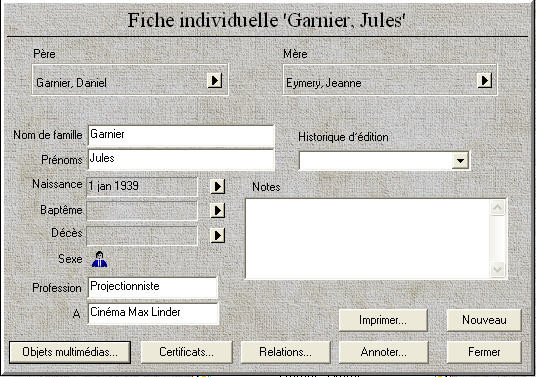 Family tree is the software par excellence for designing your own family tree by tracing the entire history of your family and introducing photos, videos and even short stories about each member of your family. It has very wide features that will allow you to make ascending and even descending trees. With its very intuitive interface, it is very practical and easy to use. You also have the possibility to see several models of family trees and to choose the model which suits you best.
6- Ancestrologie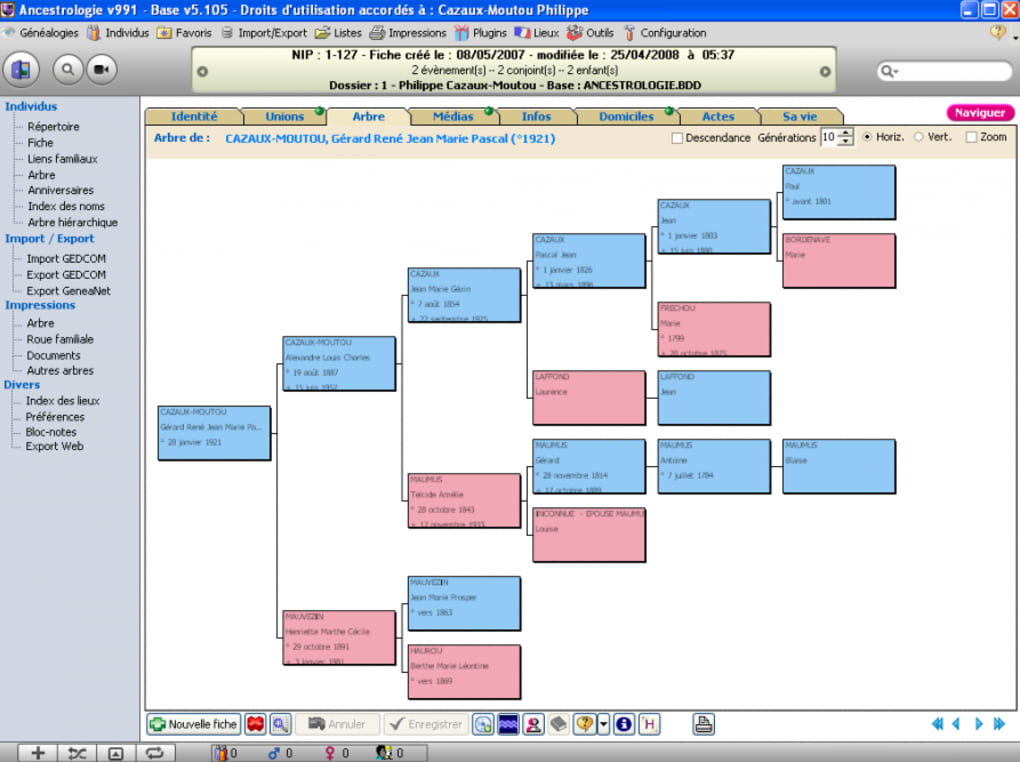 With a very ergonomic interface, the Ancestrology software is one of the best free genealogy software. With its drag and drop option, it allows you to create relationships between individuals of the same family by a simple mouse or cursor movement. It also allows the import and export of audio, video or other files. It is very easy to use.
7- My family tree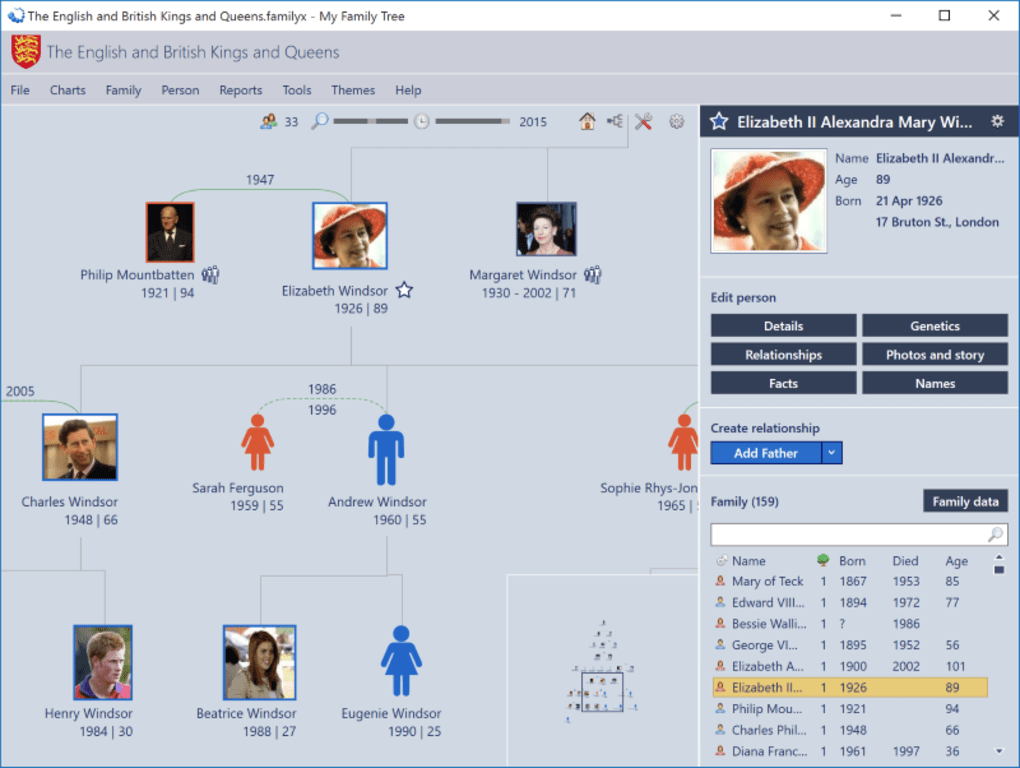 My family tree is a software designed especially for the family. Developed by MyHeritage, My Family Tree is software that is free for Windows. Thanks to its online research sharing functionalities, it allows you to share information relating to your family tree in a secure way with other family members or relatives.
Like most genealogy software, it supports importing and exporting standard files and sharing genealogy data. Thanks to its "persons and families" functionality, it allows better management of all family information. It gives you the possibility to create family trees according to several models.
8- Webtrees
Unlike most of the software mentioned above, Webtrees is a platform intended for a more informed and knowledgeable audience. Indeed, it is a support that is installed on a PHP or MySQL type web server. It is free and fully supports the GEDCOM standard. To have easy access to this software, it is necessary to master the mode of operation of these servers as well as that of the standard.
Thanks to this software, it is easy to create a multi-user edition with the function of collaborative management of a family's genealogical trees. It is a multilingual software which nevertheless presents an intuitive interface even if it requires proven knowledge in web management. It also has many extensions including Google Maps with which it is possible to have the geographical map of a family.
9- Visual genealogy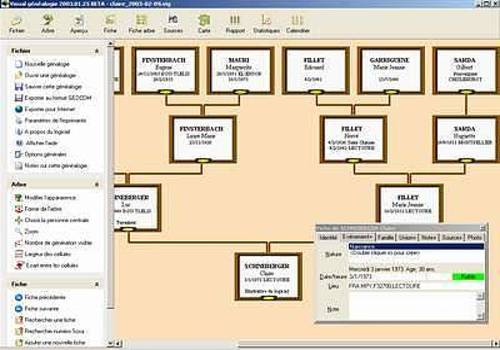 Visual genealogy offers in addition to the classic functions of usual genealogy software, very innovative functions. Indeed, it gives you the possibility of inserting more than twenty information relating to a family tree. We can thus have statistics in relation to the number of children per person, the date of marriage or divorce of a person, the date of birth or death of a member of your family. It can also provide you with valuable information on the list of orphans, consanguineous marriages or even childless descendants. In addition to all these features, Visual genealogy also allows you to export HTML type files and share them on the web.
10- GenoPro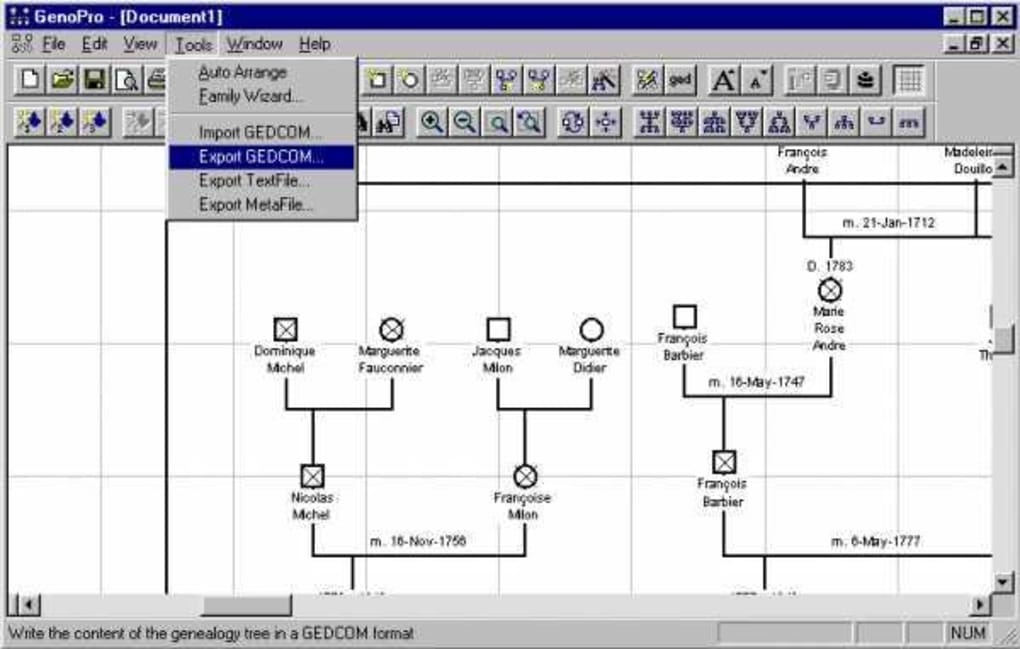 GenoPro is a very interesting platform in that it offers the possibility of setting up your own family tree. Unlike other software that asks for names before designing the tree, GenoPro does the reverse. It shows you the trees with their different parameters and you just have to populate the tree with the information you have. This offers you the possibility of obtaining a detailed and complete tree. It is easy to understand software and does not require online help support. It allows you to insert a large number of photos for each individual and thus constitute a photo album which can be recorded on a CD-ROM.
11- GenealogyJ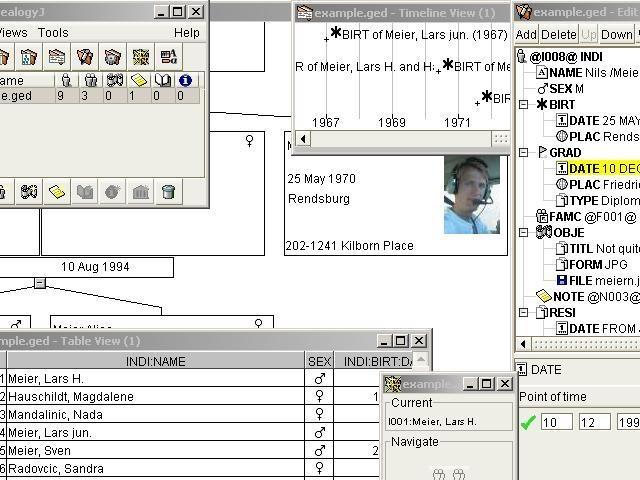 GenealogyJis a genealogy software written in the Java language. It is an application compatible with all operating systems like Mac, Windows, Linux or OS. Indeed, this software allows a faithful restitution of the entire genealogical tree of a family. To achieve this, the user must complete a complete file on each member of his family, namely his name and first names, his date of birth, his photos, his profession, his notes, comments and other. The software is therefore based on this information provided to establish files. Similarly, this software allows you to view genealogy in all its forms: chronological view, classic view of a tree or in the form of lists. It is also able to compile statistics, verification tools or functionalities.
12- Genealogy expert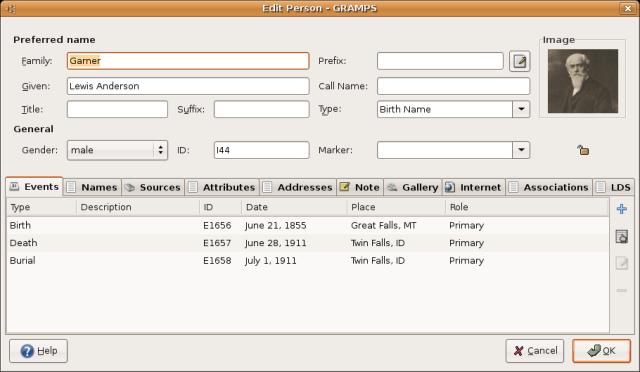 Genealogist expertis a tool for creating a family tree within everyone's reach, whether you are a genealogy enthusiast or professional. It offers the possibility to the user to enter files and to present the data according to his tastes. This entry has been simplified by numerous fully modifiable dictionaries. Thus, the family tree is created in a simple way with the automatic establishment of kinship ties. The software available many predefined family tree templates that the user can customize to his liking. The software gives the possibility to insert descriptions, photos, headings, to establish statistics or to create groups. Once this work is done, the user can save his family tree in RTF format or in text form,
13- Graphic Genealogy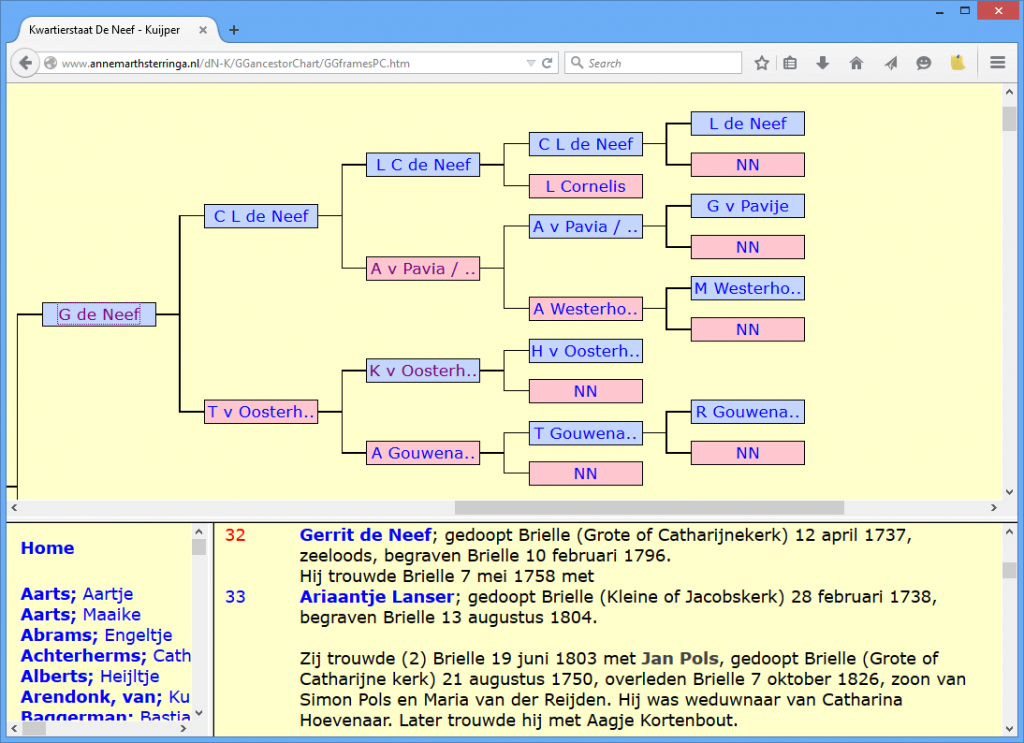 Graphic Genealogyis the successor of KStableau. This software makes it possible to create Gedcom family trees and to be able to export them in HTML format for publication on the web. Unlike other software, Genealogica Grafica does not allow the user to create their family tree from A to Z. It simply allows files in Gedcom format to be imported into its interface to draw up genealogical relations, ancestries and descendants. However, it allows its users to make changes to the content of the completed family tree or add hyperlinks. Users can also use this software to find a significant person or event. Finally, it should be noted that Genealogica Grafica allows you to display the family tree in the form of a diagram, a timeline,
14- WikiTree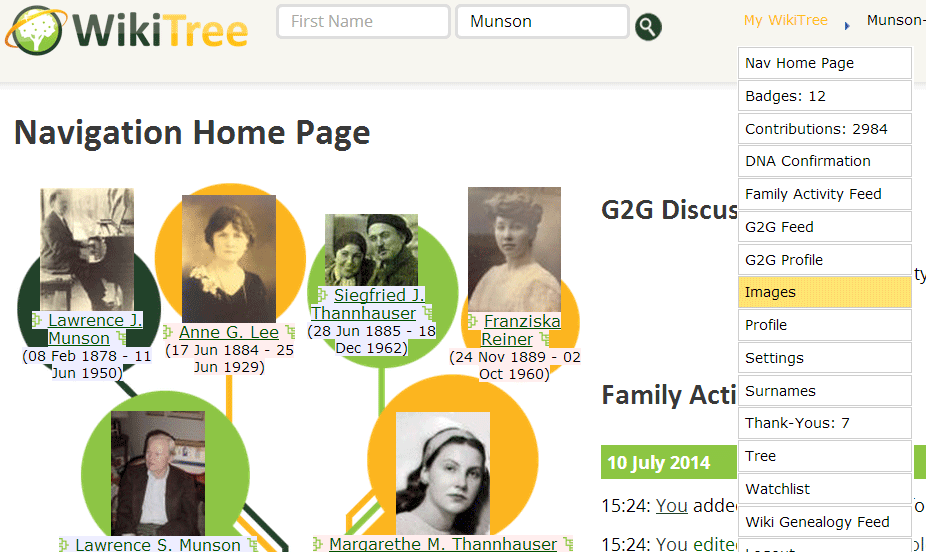 Launched in 2008 by Chris Whitten, WikiTree is one of the best most used websites for making a family tree. This platform was launched to allow people, regardless of their position in the world, to understand the origins of their ancestry or trace family history. To achieve this goal, the platform allows its users to import Gedcom files to create a personal profile for each person in the family tree. The work of WikiTree is not limited only to the possibility of establishing kinship links between individuals. Thanks to its partners, it also allows DNA tests to be carried out to verify kinship and filiation.