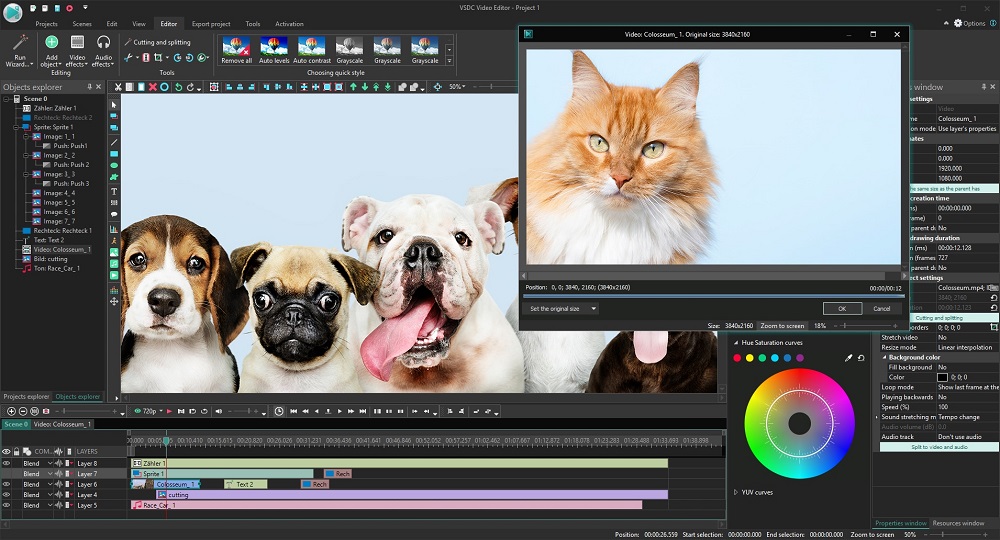 MP4 file is the most used format to play on media players. Although offering excellent playback quality, this format takes up a lot of storage space. It is in a way one of the heaviest formats on the market. For file collections, movies or other needs, it is important to reduce the size of the files to free up a little more space on the storage medium. Among the many solutions to reduce file size we have file compression tools or software. In this article, we introduce you the best 7 free tools to compress video online.
1- Online UniConverter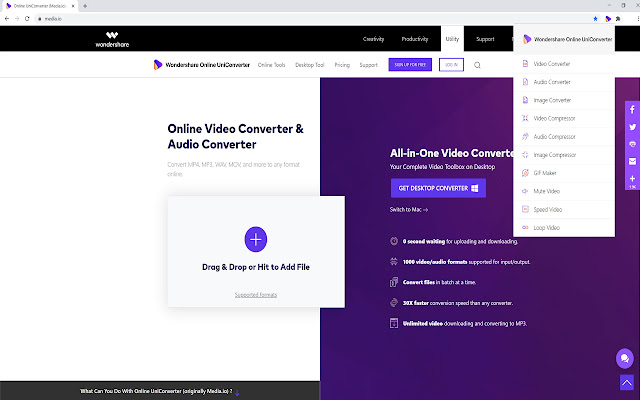 Online UniConverter is one of the best free online solutions to compress videos in higher quality. This tool accepts all kinds of files, regardless of their original format. To compress them, it proceeds by changing the size or the resolution (4 k, 240 p, 360 p, 480 p, 720 p, 1080 p, etc.). With its simple and intuitive interface, you will find it easy to compress your files. All you have to do is add your video to the site from your computer, Google Drive and Dropbox, then select the resolution or size of your choice from the available proposals.
Note that you can send the compressed file directly to your PC or to your Dropbox and Google Drive accounts. Also, the compressed video does not contain any watermarks. However, there is a limitation on the number of files you can compress per day. The original files must also be less than 100 MB. Finally, please note that using this site requires opening an account.
2- Zamzar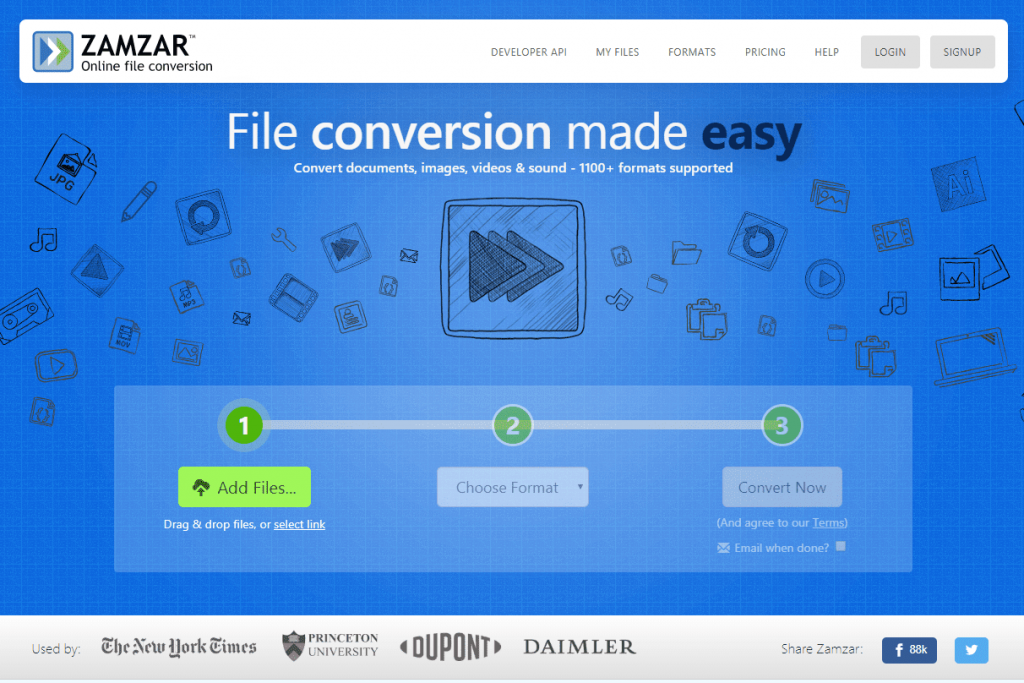 With Zamzar you can compress all kinds of files whether audio, video, images or PDF. This tool is also able to help you convert a file from one format to another . It supports more than 1200 different formats among which you have the most common like MP4, MTS, F4V, ASF, MOV, AVI, FLV, WMV, 3G, VOB, 3GP, MOD to name a few. It is a site that saves your time in performing your task because it will not take you more than 10 minutes to finish transforming your file.
This site has an intuitive interface and you can easily find your way around despite the fact that it is only in English. All you have to do is choose the said file on your computer, select the format that suits you and click on "Convert Now" to get the desired result. If you get lost, you have at your disposal a customer service always available to help you in case of problem.
3- Clipchamp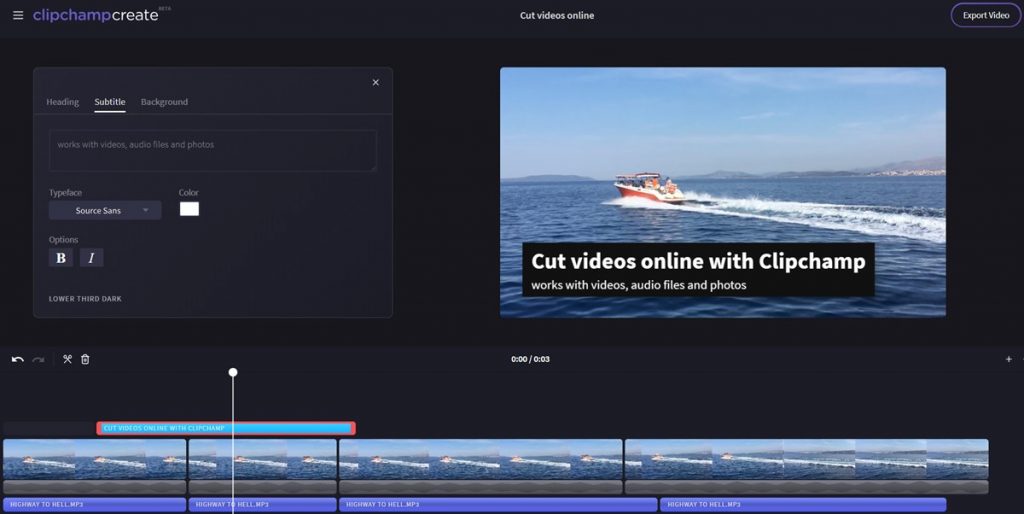 Clipchamp ranks high on the list of most used video compression tools by internet users. This compression solution is popular today because of its speed and simplicity. To convert a video, simply upload the file directly to the site and select the desired format and the site loads on the way to output a smaller file.
Clipchamp supports many formats among which we have MP4, GIF, ASF, WebM, WMV and FLV. It is a solution that is completely free (but has a watermark) and does not require any prior installation on your computer. It also provides the ability to compress multiple videos at once to save time. The software is also able to compress your videos from Facebook, YouTube and Vimeo.
4- Clideo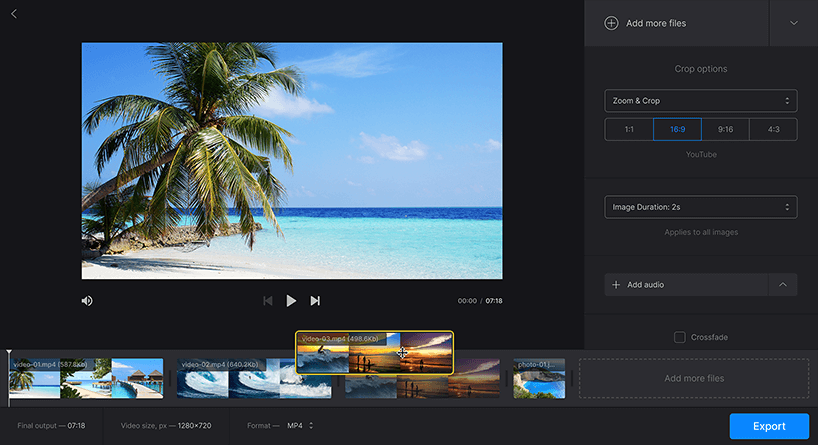 Unlike Zamzar, Clideo is a video compression site with a French interface. It is compatible with the most popular file formats of the moment. You have for example MOV, 3 GP, WMP, FLV, MKV, AVI, OGG, 3G2 and of course MP4. One of its great advantages is that it offers high conversion speed regardless of your original file size. You have the option to import files up to 500 MB. It offers you a preview of the result before you can download it.
5- Aconvert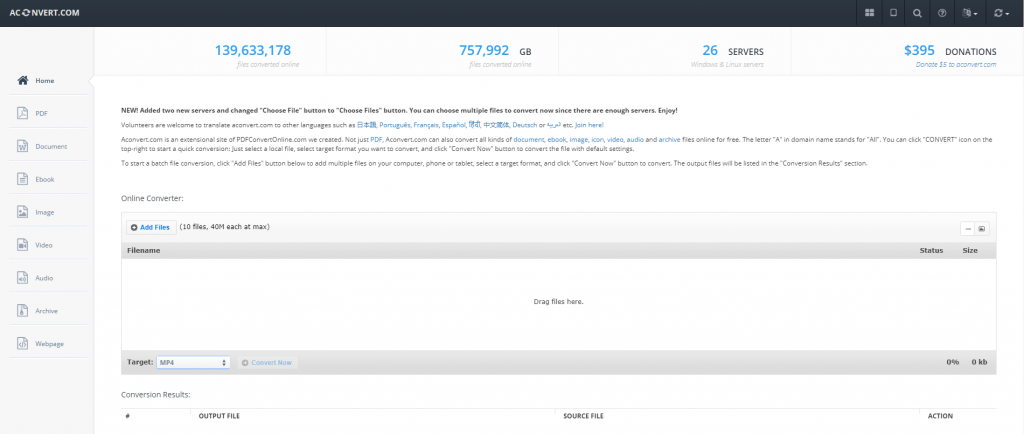 Let's say it from the start, the Aconvert site is recommended for professionals. It is not suitable for beginners, because converting files requires some settings beforehand unlike previous sites. If you manage to master the workings of this site, you can fully enjoy its advantages. Indeed, it allows you to synchronize your Google Drive or Dropbox account in order to import your files. It offers one of the best interfaces on the market, which makes your job a little easier.
6- CloudConvert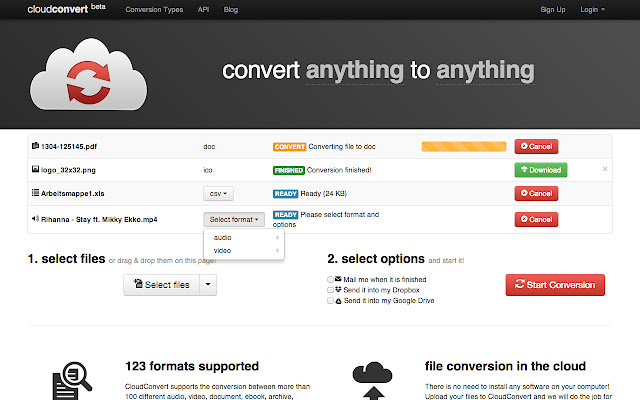 Here is another popular video file converter site. Like most of the sites on this list, file compression is done in a few steps. The first is to add the video by simply dragging and dropping. The second step is to choose the type of format you are looking for. The last step is to click on compress for the site to take care of the rest. As soon as this step is complete, you can now download your new file to your computer.
Note that CloudConvert offers you the opportunity to compress several files at once. Isn't that a time saver for you? You can compress your file from your computer, One Drive, Dropbox, Google Drive or from a URL. This site accepts more than 200 different formats. So you can compress the files like MP4, ALZ, TAR, ACE, DMG, ISO, CPIO, LZ, RZ, IMG, DEB, JAR and many more.
7- YouCompress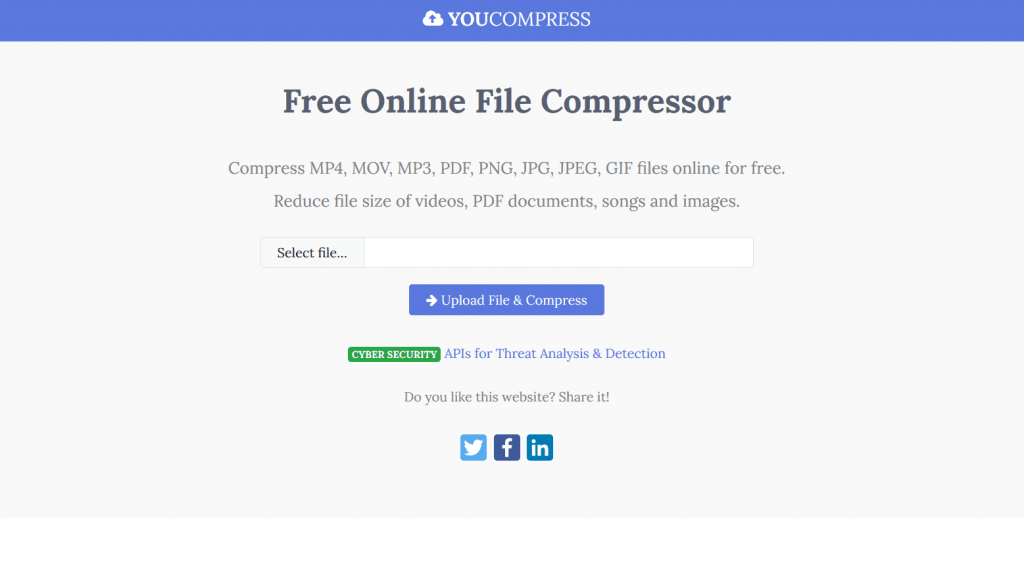 Let's finish our selection of the best free tools to compress video online with YouCompress . This site offers you some simplicity in the process of compressing your video file. Indeed, once you have selected the file to compress, you will not have to choose a size unlike the other sites in this selection.
The site takes care of reducing the size of the original file directly for you. This can be a drawback for those looking for a certain size in their final file. However, your final file will be watermark-free. No video compression limit is imposed. You can compress as many files as you want.